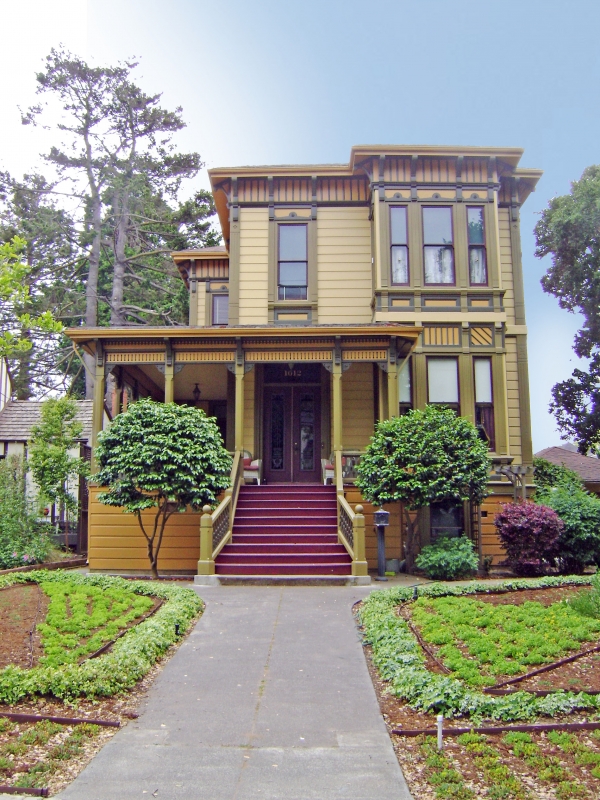 A Classic Shows a Rediscovered Face to the Street
Story by James Smallman
Award Recipients: Lois and Bill Francis
Grand Street in Alameda proudly displays some of the finest homes in this historic city. The broad avenue provides the many strollers ample opportunity to enjoy the great architecture. One especially outstanding example is the Eastlake-style residence at 1012 Grand Street. Constructed in 1881 by the firm of Gilbert & Brown for a cost of $5,500, this was an early indicator of the prominence that Grand Street would enjoy.
The house has been beautifully restored over the years by its current owners, Bill and Lois Francis. As restorers sometimes discover, there often is an element of archeology blended with their construction. Shortly after acquiring the home, they found brackets and porch posts in the basement which did not match the porch then on the house. It was soon obvious that the existing porch, a Craftsman-style, was a later addition. Alameda Museum curator George Gunn dates that construction to 1918-1922.
Bill Francis redesigned the wrap-around porch to be more consistent with what could be discovered of the design of the original porch. The porch posts on the newly constructed porch were milled to match those found in the basement. The originals were redwood, now difficult to obtain, so the new posts were milled from mahogany. The steps were redesigned to match the original footprint, discovered in the area surrounding the 1918 steps. The brackets were duplicated by Bill, using the example found in the basement.
The floor of the Craftsman-style porch was reused. It is unknown if the wrap-around porch now on the house duplicates exactly the footprint of the original porch, but there is no existing photo of the house showing the original, so best approximations were required. An appropriate corbel design was duplicated from another Eastlake-style house in Alameda. The frieze, simulating fret-work, was similarly adopted.
Bill gradually produced all the decorative elements of the porch himself, though he carefully notes that
he had to have the newel posts and porch posts milled by others. But his craftsmanship and attention to detail are evident for all to see. The porch is a wonderful addition to the Grand Street collection of spectacular houses.