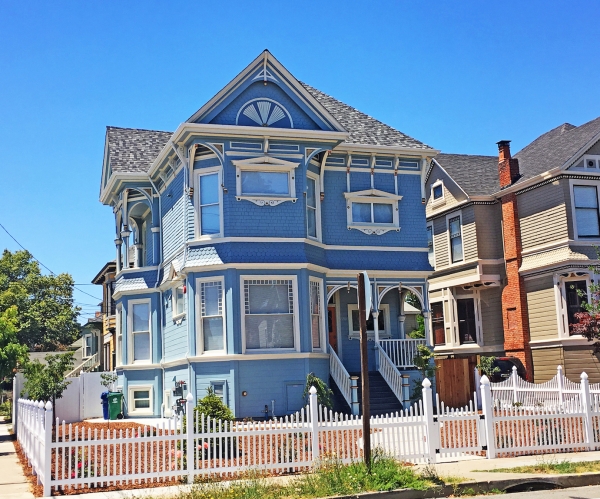 Story by Pierluigi Serraino
Award Recipients: John H. Jiang, Owner; Phoebe Yu, Interior Design, Exterior, and Landscape Design; Kwan Hong Li, General Contractor;
Fernando Painting Co., Painter
Character is what makes places memorable. In this sense the rehabilitation of 1201 Lafayette Street is a textbook case of an intervention that strengthens the distinct architectural character of Alameda.
Sitting on a corner lot between Encinal and Lafayette, the original structure was built in the late 19th Century following the Victorian style without a specific architect being attributed credit for its design. For decades it remained in the hands of the same owner who neglected the upkeep of the property while running a pet grooming business in the property. Over the years the building became dilapidated raising the challenge to give it a new lease of life to the next owner.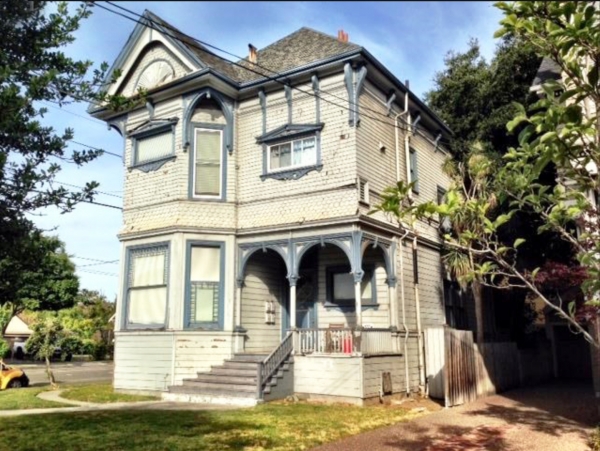 That change of hands occurred in the recession years. The new owner, John H. Jiang, took time to execute a thorough restoration plan. To resurrect the structure to its present state, the permitting process took a full year. Construction, which ended in May 2017, took 18 months time and it involved a complete makeover. The interior was gutted to the studs and it was redesigned to have four rental units leaving the exterior virtually unchanged. Besides the owner, the team included Phoebe Yu for the Interior, Exterior, and Landscape Design, Kwan Hong Li, as General Contractor, and Fernando Painting Co. for
Painting. They had worked together on a similar project.
The existing Victorian basement was excavated for a new concrete foundation and living space for the garden unit. Wherever building and decorative elements could be salvaged, restoration took place. A great number of wood elements the owner and the contractor endeavored to retain: wood trims, original windows, the front door, for the purpose of restoring the original exterior design of the house. When that option was unavailable a complete replacement like for like was implemented, the front stairs leading to the porch flanked by twin moldings posts and the railing, being one example. This was a costly philological exercise, but consistent with the owner's intent to be faithful to the architecture.
In the absence of original drawings, some decisions needed to be made. In designing the garden, the team installed a white picket fence to mark the property line and reinforce its street presence, and colorful roses were added into the plant list, to be harmonious with the Victorian era style. Conversely, the color scheme is more contemporary, since the intent was to provide a fresh look to the historical structure, This was done in the hope of attracting more people, especially younger generation to notice, be interested, maybe leading to love the historical design and wanting to preserve them for posterity.