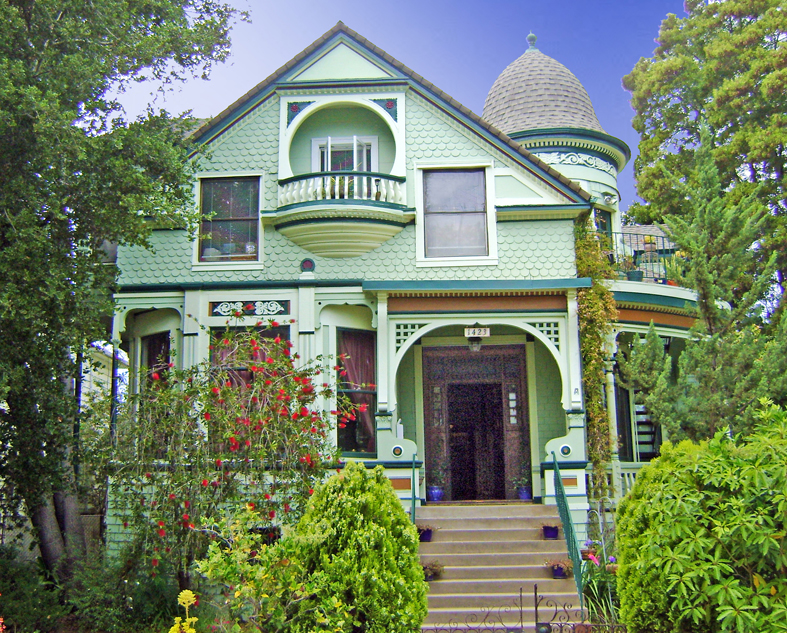 Colorful Present Matches Colorful Past
Story by Jerri Holan
Award Recipients: Valerie and John Moyer, Owners; Virginia Mui and William Glass, Owners.
It all began with plastic melting in an oven. The fire department put out the fire but damaged some interiors. So began a series of improvements at the striking Queen Anne apartment house at 1423 Central Avenue. The walls were fixed, gas lines replaced, minor structural upgrades — including brick and concrete foundation work — were completed and some original interior finishes and light fixtures were restored.
Finally, in 2018, it was time to paint the exterior. When the current owners purchased the property in 2001, it sported chocolate brown paint with beige highlights. John Moyer, one of the owners, hired his faithful contractor, Chong Kim of Century Painting, to perform the work. He gave Chong free rein on the choice of colors. Chong selected a mint green pallet, a much more suitable color for a Queen Anne mansion than brown. He augmented it with four other colors: hunter green, maroon, cream, with tan accents. The end result is dazzling display of Queen Anne details in vivid colors, now proudly displayed on this prominent corner house.
Unfortunately, the other two owners, Virginia Mui and William Glass, were not very happy with the new colors. They preferred the old brown color. Needless to say, they were quite surprised when they were told they were receiving a preservation award for the paint work. We're hoping they'll eventually warm up to the vibrant Victorian hues because this wonderful old home really deserves to shine — its past is as colorful as its present.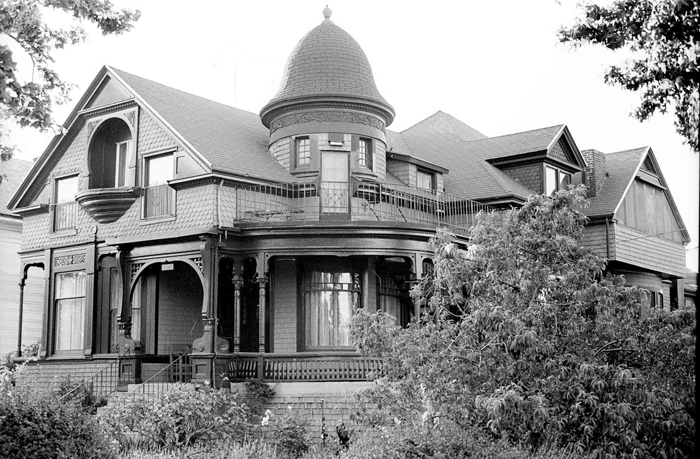 It was built in 1889 by A.W. Pattiani and Company, one of Alameda's most renowned Architects and Victorian builders. The original owner of this distinguished home was Harry B. Smith, a San Francisco stockbroker. In 1891, he sold the home to Joseph Thompson Goodman (1838–1917), the owner and editor of the Virginia City newspaper The Territorial Enterprise, one of the largest and most influential newspapers on the West Coast. Goodman hired Samuel Clemens as a reporter for the paper, giving Clemens his "start" as a professional writer.
With a daily circulation of 15,000 at its peak in the 1860s, The Enterprise was Nevada's first newspaper. It chronicled the frenzy and financial fallout of the Comstock Lode of silver ore discovered on the eastern slope of Mt. Davidson. After the mining boom died, the paper continued to tell the story of a rough town where unwashed men settled scores with six-shooters. The original Enterprise ceased publication in 1893.
In its heyday, The Enterprise not only covered the news— it made news. According to a 2015 article in the LA Times, "Reporters William 'Dan De Quille' Wright, James 'Lying James' Townsend and Samuel 'Mark Twain' Clemens perfected the art of the Western tall tale with articles that became legendary for their wit."
Local lore has it that after Goodman moved to Alameda, Mark Twain was known to have been a guest. Perhaps he even slept in the tall round turret which oversees the neighborhood? Today, the home has been remodeled into 11 apartment units and is well-maintained by the current owners, including an original lobby with magnificent original woodwork and finishes. In contrast, the previous owner had lived in the home for a long-time and one only wonders
what lore she knew or what characters she entertained? John promised to sift through the shoe box she left him but I suspect we'll never know.
What we do know is that this colorful Queen Anne has been brought to life, another sparkle added to this dazzling Victorian neighborhood. Thank you John, Virginia, and William.