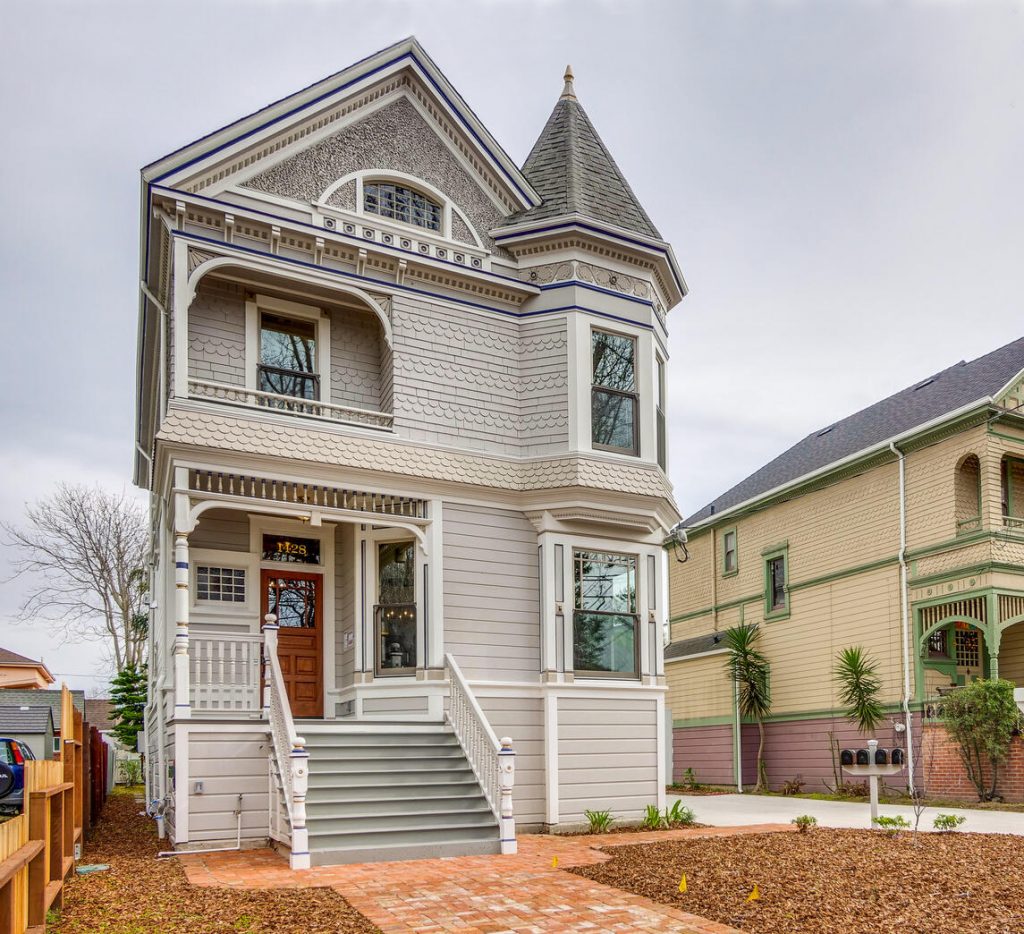 Could It Be…Another Pattiani?
1428 Benton Street
Story by Jerri Holan
Award Recipients: JL Mount Investment Company, John H. Jiang and Kwan Hong Li, Owners; Kwan Hong Li, General Contractor; Phoebe Yu, Designer and Realtor; Jim Smallman, Project Manager; Russo Windows, Custom Wood Windows.
Even covered with asbestos shingles, the home at 1428 Benton Avenue could not conceal it's grandeur. An experienced eye easily detected the steep pitch of a Queen Anne roof line and the exuberant expression of a prominent, hexagonal corner turret. And then there was that grand entry stair and tall, double-hung windows some of which still had colored glass panes.
The experienced eye was Jim Smallman, the year was 2018, and the house had a For Sale sign in front of it. Wedged between two colorful Victorians, the plain two-story home seemed out of place to Jim in this older neighborhood. Well, he thought, it wouldn't hurt to check it out and see what he could find out about the building. He called up his colleagues at JL Mount Investment Corporation and wondered if they'd be interested in looking at a fixer with lots of potential?
Well, it turns out they were and they even wanted Jim to oversee the fixing. So commenced the wonderful exterior rehabilitation of another fine Victorian home in Alameda. The home was built in 1890 as a speculative job for Henry Mohns, an investor who commissioned several dozen spec houses in Alameda between 1890 and 1893. A.W. Pattiani and Company constructed the home, one of Alameda's most renowned Architects and Victorian builders. The cost of construction was $3,200 and Mohns sold the house the same year to Wm. W. Fowler who worked as a messenger for Wells Fargo. Pattiani built three other houses for Mohns, all in 1890 and all quite similar. These are located at 1424 Benton, 1524 Encinal, and 1208 Union.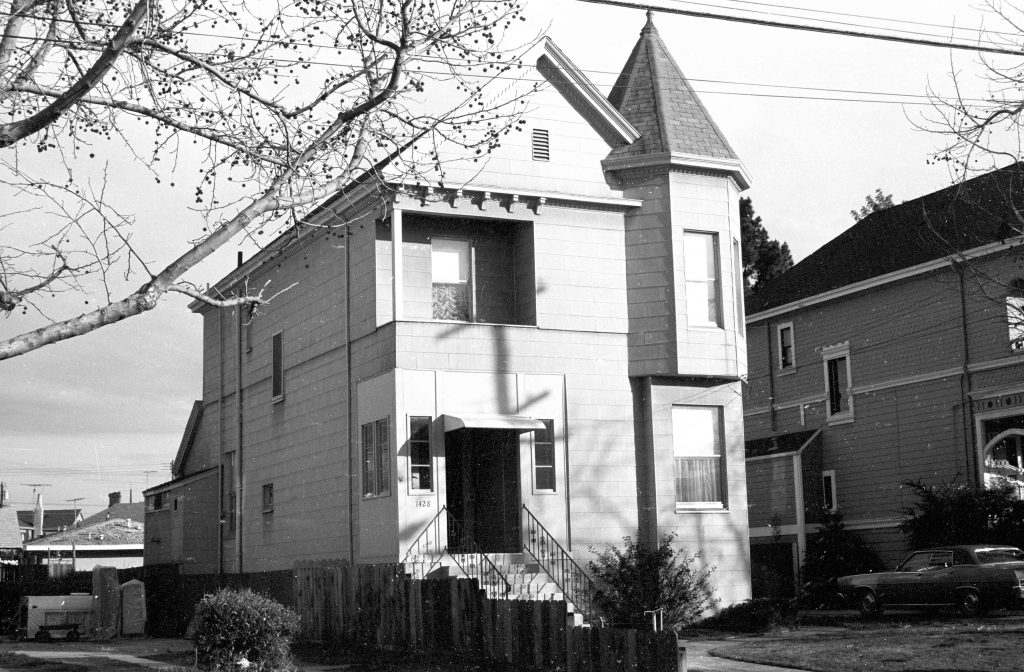 JL Mount Investment Company are partners John H. Jiang and Kwan Hong Li, a general contractor and builder par excellence. His expertise was sorely needed as the exterior of this old house was in need of dire salvation. So Kwan Hong Lie got to work. The first thing that had to go was the terrible awning and front porch. Next, the awful asbestos shingles were removed. Underneath, original redwood siding, trims, bric-a-brac, window casings, and brackets were revealed. The crew salvaged everything they could and recreated what they could not. The textured gable stucco was restored as were alternating shingle courses, dentils and archways. According to Jim, unfortunately, the belt course had not been saved and was recreated under his exacting eye. Also on his watch, all the large windows were replaced with custom wood double-hungs to match originals from Russo Windows in Oakland. No detail was spared and the restored facade is breathtaking.
Since the lot was so large, and to help pay for the new foundation, JL decided to add a second, duplex unit in the back along with a basement Accessory Dwelling Unit (ADU). The additions used similar siding but saved money by using prefabricated double-hung windows. They kept the original proportions of the home and, instead of raising the house, dug down to install the basement ADU using light wells for natural lighting on the lower floor. A beautiful new shingle roof graces the steep gable roofs and turret of the refurbished, 3-unit home.
While the exterior of this house was a disaster, the home's interiors were pretty much intact, including generous woodworking and original finishes, which just needed some refurbishing along with a kitchen remodel and new baths.
Phoebe Yu was the interior designer who remodeled the baths and kitchen while Jim helped locate a vintage fireplace to replace the missing front in the Dining Room. He also recommended refurbishing all original lighting and medallions along with the handsome woodworking, including spectacular newel posts and guard rails on the main staircase, Lincrusta wainscoting, trim, and picture and crown moldings on the walls, and recessed ceilings in the main rooms.
Finally, Phoebe Yu selected the subtle exterior color scheme and Kwan Hong Lie skillfully executed it. The three-unit building cost approximately $1 million to restore including the two, rear additions. The new Owner is absolutely thrilled with her restored Pattiani home and looks forward to many years of stewardship. Her elegant home, once again, complements the company of her distinguished neighbors.