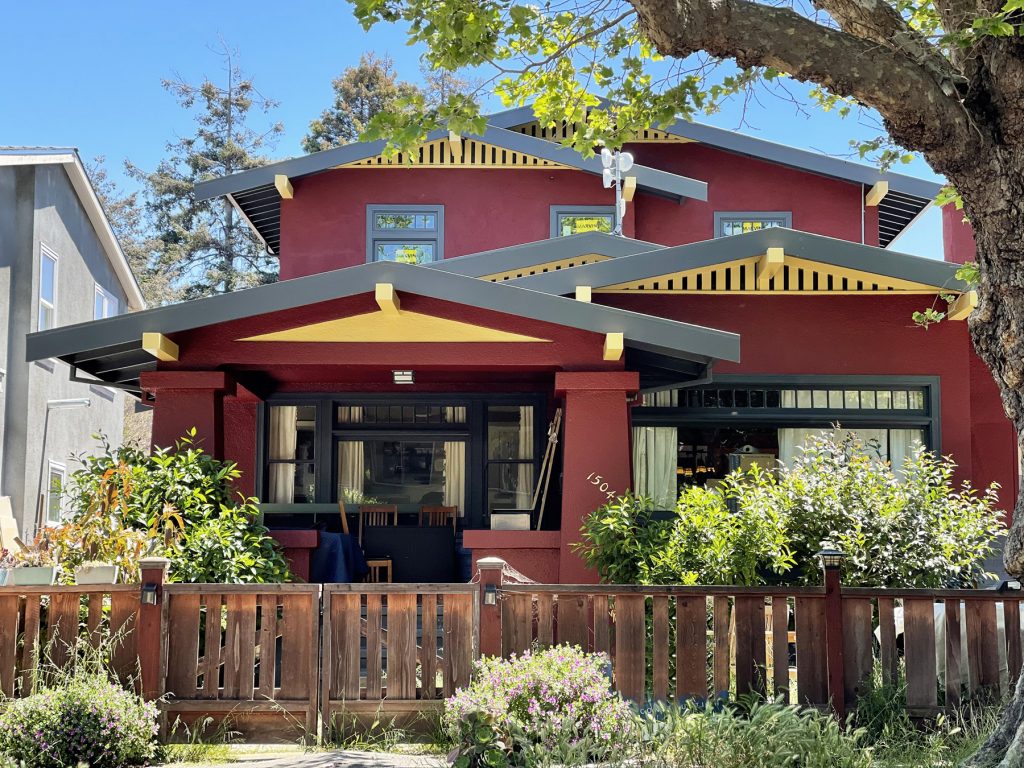 1504 Verdi Street
Story by Kay Weinstein
Award Recipients: Nate Martin and Jen Evans, Owners.
Nate Martin and Jen Evans are receiving a preservation award for the exceptional second floor addition that is faithful to the original design of their Craftsman bungalow. 1504 Verdi Street was built in 1917 by George Noble, the foremost builder of bungalows (over 300) in Alameda. In fact, Noble Avenue is named for him. The owners bought this home in 2013, when it was a fixer inside and out. Their bold vision, respect for architectural integrity, and use of reclaimed materials whenever possible, are evident throughout their remodeled home.
Attention to design and detail seem to be a part of everything the owners do. Nate is an electrical engineering director for an electric airplane company. Jen is a digital account coordinator for a podcast company. Their first task for this home was bringing it up to building code. Their second task was to bring back the original dividers between the living room and dining room; they found them on eBay! The original home had three bedrooms and one bathroom; eventually they found themselves wanting more guest rooms and home office space.
Nate and Jen first explored going down, which proved to be too expensive, so they decided to go up. One of the bedrooms, that was only accessible through another bedroom, was the perfect place to build an interior staircase to a second floor. The owners made a crucial decision to avoid the ubiquitous second floor additions that resemble a rectangular box set on top of the first floor. They were even told that such a design is desirable as it is the "Pasadena Style!" Their wiser vision was to mimic the original style by setting back the second floor, as well as matching the overlapping gables of the first floor. They took their suggestions to Architect Adamsu Tegegne who drew up the plans.
Sivtec, Inc. of Napa provided general contracting, unfortunately encountering several construction delays. The City gave approval in October of 2019, and the roof was removed. The City then made further engineering requests, delaying construction into January of 2020. Next was two months of construction full speed ahead until Covid regulations kicked in. In addition to masking requirements, only one trade could be on site at a time, with a two hour gap between trades. The workable plan became one trade a day working on plumbing, electrical, drywall, plaster, tile, and flooring.
Along the way they sourced 1930s oak flooring from Craigslist, and the bathroom tile is reclaimed. Half the light fixtures are vintage, and half are reproduction. Half the doors came from Urban Ore, and half the windows are reclaimed. Custom windows for the front and back were made to match the originals on the first floor. The owners lived on the first floor throughout renovation. In December of 2020, they could move into their second floor, containing two bedrooms, one Jack and Jill bathroom with a private water closet, and a laundry room.
Nate and Jen also went against the remodeling trend of neutral color schemes. The original house was sage green (as are several on the block) with dark red trim. That trim color sparked the idea that a dark red house would stand out on the block, and the resulting dark red house with yellow trim is striking. They also chose some bold blues and greens for the interior. They did most of the interior painting themselves, and are still putting on the finishing touches. We look forward to seeing a bronze plaque displayed on their beautiful home with a second story for a second century.