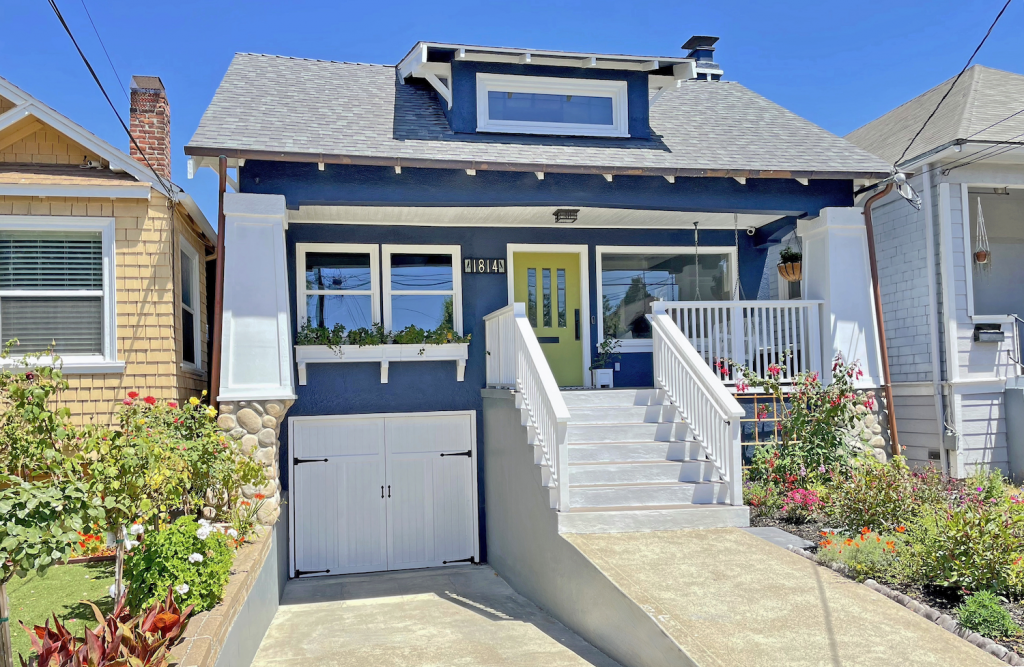 1814 Ninth Street 
Story by Conchita Perales
Award Recipients: Greg and Jill Harrison, Owners; Jarvis Moore, Draughtsman; Izet Tudzinovic, RI Best Construction, Contractor.
It was early 2018 when Jill and Greg decided it was time to buy their first house. They had been renting in San Francisco and Redwood City for almost 10 years, and it had always been their dream to have their own home. They knew they wanted a house that had history and character, and Craftsman bungalows had always appealed to them for their size and open floor plans. They had been to Alameda Point Antiques Faire and enjoyed driving around the island admiring the historic homes lining the streets, but it was sitting at a local cafe one Sunday morning that Jill knew Alameda would be their forever home. "It was the combination of the weather, the neighborhood and the lively community that made me feel like I was back in my childhood home in the Pacific Northwest", she recalls.
The 1914 Craftsman in the West End had been put on the market as a "Contractor's Special", which meant the house had been neglected and needed a lot of work to make it livable again. All the original double hung wooden windows had been replaced with aluminum, the wood framing around all the doors and windows had been removed, it was practically dilapidated inside. The boxed beam ceiling in the dining room and the interior doors with their hardware where the only original turn of the century details left, everything else had been removed or modified.
"The house definitely needed a lot of work, inside and out, and it was exciting for us to imagine how we could save this historic house, make it our own, and at the same time infuse some early 1900s craftmanship back into it. We wanted to recreate a home that would remain functional for us and also preserve it for another century", Greg recalls.
"The demolition work started as soon as the papers were signed, but it would take a little over a year for us to get ready to break ground on the rebuild of our new home. It had been a year of demolition, design review, consultations with our draughtsman, building permits, and financing logistics. It was during this 'waiting' time that we did extensive research to determine what features we wanted to have, while trying to reintroduce elements that had been lost when it had been remodeled in the 1960s", Greg continues.
"We were also very excited to get the project underway and completed so we could finally live in the community, as opposed to driving every weekend from Montara, where we had been living with my parents during the renovation. We simply couldn't wait to finally become official residents of Alameda. This little town has more character than almost any other in the country, and we are trying to play a small part in maintaining that character for years to come."
A lot of work and updates went into restoring the Craftsman character of the house, amongst them were replacing all the windows with original style double hung wood frames, replacing the iron stair and porch railings with wood and adding beadboard paneling to the porch ceiling. They also replaced the plastic rain gutters with copper and restored the original front door, dressing it with Craftsman style hardware. One of the biggest changes to the front of the house was recreating the traditional Craftsman look by installing wood clad framing and river rock stone veneer to the columns. The cement stairs and porch were clad with wood-like ceramic tile, and they added Craftsman style outdoor lighting fixtures to finish off the look. The garage door and planter box under the front windows were designed and built from scratch by Jill and Greg; and the beautiful Craftsman styled stained glass windows flanking the fireplace were also designed and made by them with the help of his parents Pat and Mike, who've been working with stained glass for over fifty years.
After almost three years of construction, and with the help of dozens of others, the Harrisons finally finished rebuilding their house and are now enjoying the benefits of their hard work. "We had been looking forward to owning our first home for so long that it is still amazing to us that we actually went through all this process of demolition and reconstruction. But it was all worth it, we are very happy with the results, and we can't wait to have our family and friends over to enjoy it with us", says Greg proudly.