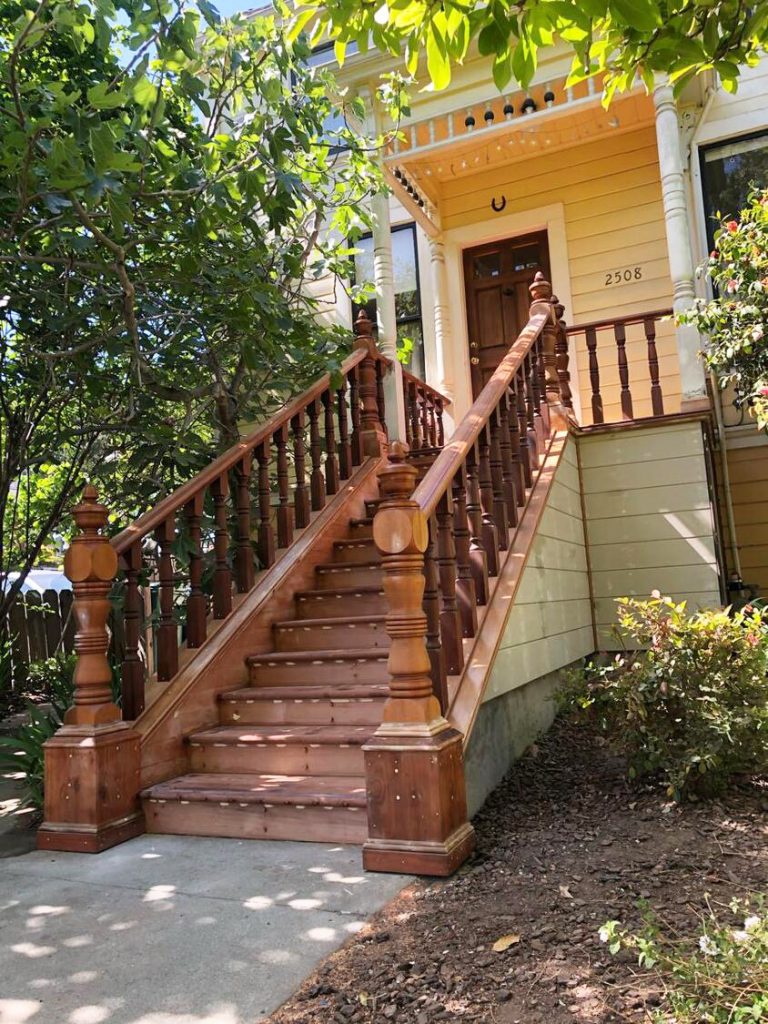 2508 Eagle Avenue 
Story by Conchita Perales
Award Recipients: Kris Koblik and Sean Nolan, Owners; Don Maclean, Artisan, Designer, Master Carpenter.
The front porch and stairs of a Victorian house often display unique architectural design features and in many cases are considered a work of art on their own. However, they are also more vulnerable to the elements than other parts of a house, and these structures, no matter how meticulously maintained, eventually must be completely restored or replaced. And for that, you need an expert and maybe even a private investigator.
Enter Don Maclean, a craftsman carpenter whose great, great, grandfather, James Millington, married and moved to Alameda in 1853. James worked many years as a carpenter and a building contractor, and later became very involved in the City's civil and political arenas. Don's knowledge and love for wood is undeniably in his DNA, and growing up in his father's Victorian on Grand Street he acquired the appreciation and skills needed to understand and repair intricate woodwork. He trained as an artist at the San Francisco Art Institute and entered into the craft of wooden boat building which he mastered for 30 years. After a stretch exploring the art world in New York while working for a restoration contracting company, Don is back in Alameda exercising his art, his carpentry and even some detective skills.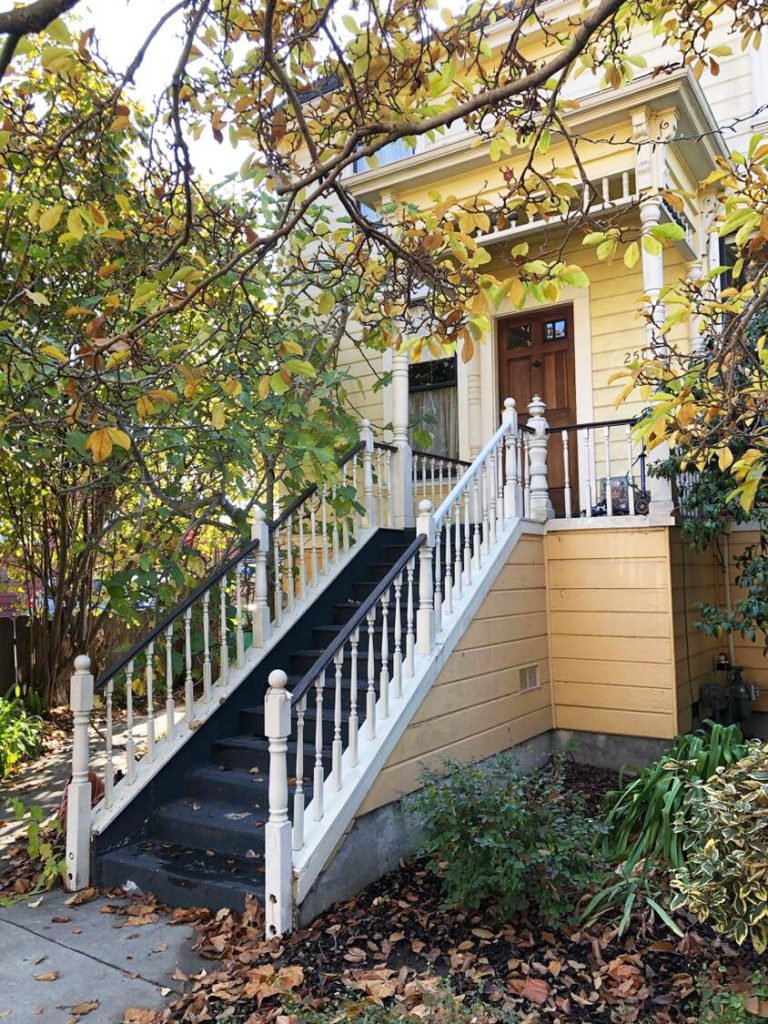 Such was the case for Kris Koblik and Sean Nolan who bought their house in 2013. They remember when "it came a point where it seemed as if the whole stairs and the porch were about to fall apart, so it was time to address the repair before they became unsafe." Sean found Don on a neighborhood app when he saw a post that featured a beautiful restoration of the stairs and railing of a Victorian house in the Gold Coast. "At that moment, I knew that Don could take care of our stairs and restore them to what they could have looked like when the house was built in 1890."
'Detective' Maclean recounts, "We didn't have much to go on except for the one original newel post that was left at the top of the stairs when they were replaced sometime in the 1960s with 'buy from the shelf' pieces from a hardware store. That one surviving post set the stage for the entire preservation of the porch and staircase, and it became the clue and the origin of the whole design. And when it was time to choose the designs for the balusters, caps and handrails, Kris, Sean and I decided to incorporate spins and patterns from the porch posts, also original to the house, to tie the staircase to the rest of the house."
"Once we started to demolish the staircase", Don continues, "we found that the entire existing framework had a lot of rot and decay, as well as termite damage. So I had to tear it down in its entirety and replace everything, including the stringers! Once the framing was removed it became apparent that the foundation had been poured improperly, it was offset and there were no right angles for my new pieces to fall into place.
"I think my favorite moment was when Don asked me only half-jokingly 'Who built this? Dr. Seuss?'" Kris recalls, "It brought home the gravity of the need for the repairs in a lighthearted way. We have photographs of all the weird framing and some of it wasn't even nailed together. I'm surprised that the porch was even standing."
Another major challenge Don encountered was finding out that the two original supporting columns at either end of the porch were shifted to the sides, not straight. In order to fix this he had to jack up the porch overhang so it wouldn't fall and then pound to plumb and level each of the columns a little at a time. He recalls "what a real problem that was, because the stairs are built from there, so the columns had to be straight. There was quite a bit of band-aid and fixing to do before we got to the real fun stuff!"
Part of the "fun stuff" was wood choice. Don used a mix of four different types of wood for this project. For the framing underneath he selected Douglas fir and redwood, and explains how he used a penetrating epoxy, so every inch of the framing was sealed to avoid rot and termites. The posts, handrails and lower caps are made from Western red cedar, a West Coast wood resilient to rot which is a little softer and brittler, but easily sanded and sculpted. And the balusters and the stair treads are made from sapele, a Brazilian wood. "Sapele is very hard and durable, and will stand up better to the elements than almost any other wood. Unlike Douglas fir which will eventually wear down and rot, or redwood which will wear down quickly and chip easily, sapele is like steel, it repels water incredibly well and bugs don't like it."
"The posts were replicated with an old and beautiful World War II lathe, a machine with a rotating drive used for shaping wood or metal" Don continues, "the lathe was restored and operated by an experienced craftsman in Marin County, and he's quite good at what he does. He retooled the lathe to make the posts and the balusters; and the caps and the handrails were all handmade by me, one by one, in my little shop here in Alameda."
Sean and Kris agree that the whole process always felt like a partnership. "Don's work is just above and beyond what we ever expected, and we're really pleased that we made the decision to move ahead with the project. And yes, maybe the end cost was a little bit more than what we had anticipated because of all the detailed work that went into it, but it has all been worth it, to have this level of care, attention and professionalism from Don. And now our stairs and porch are rock-solid and they will last for 300 years!" Sean ends with a smile.