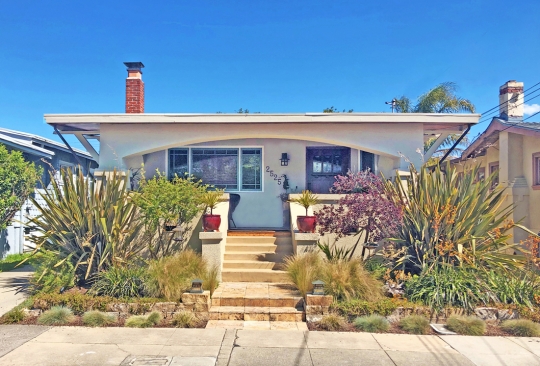 Story by Conchita Perales
Award Recipients: Owners, Deborah Morgan & John Oldham; Design, Derek Pavlik Design; Contractors, Matt & Sam Najdek, Ore-Cal Construction, Inc.
Noble Avenue is one of those streets where you're greeted with a pleasant surprise of architectural consistency. The Bungalow styled homes that line it offer a continuity of perspective, proportion and connection not often found in Alameda. George H. Noble, the most notable bungalow builder on the island, developed this quaint bevy of houses in 1915 and the charming street was appropriately named after him.
Unfortunately, sometime in the 1950s, the owners of the house at 2525 Noble wanted to 'get with the
times' and 'modernize' their house to the then popular mid-century Ranch style. To accomplish this 'look', they completely removed the stucco porch and replaced it with red brick for the skirt and a short landing with a white iron handrail. These owners were oblivious to the effect the alteration would architecturally have on the street, because it's these front porches and extended rooflines that create the symmetry and rhythm that Noble intended and what makes the street so appealing.
When first time homeowners Deborah Morgan and John Oldham bought the bungalow in 2000, "It was definitely the oddball one on the street", John remembers. "Not only the front of the house didn't have that characteristic porch that the others have, but the previous owners had also removed the original windows and replaced them with two picture windows that didn't open. The house faces south, and in the summer, without a porch to shade it, it would get tremendously hot inside! So not only it was an aesthetic piece that we wanted to change, but also a functional one!"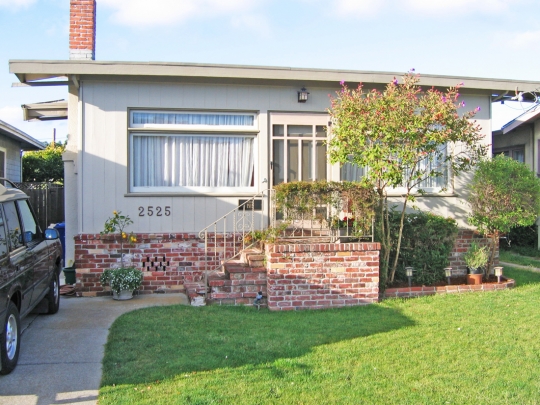 When Deborah and John finally decided to 'take the plunge' and restore the porch, they hired local residential designer Derek Pavlik to help them conceptualize it and put the drawings together. John remembers that they started looking around for evidence as to what it would have looked like in 1915, they also asked the neighbors, but no one had any recollection of the 50s remodel or old pictures; and the 1978-79 photo survey done by the City was already too late to show the original.
Since they couldn't find any evidence of what the original porch looked like, it stopped being their priority. Pavlik recalls that at that point the research became about doing something appropriate, rather than worrying about putting back exactly what would've been there. So they looked at the neighboring houses for clues to design and create a porch that would honor the rhythm of how the street worked, so that they weren't recreating the same idea as the houses immediately adjacent, something that George Noble took great care to do when he originally planned its layout.
The goal was to design a porch that looked like it had always been there. So "we decided to take some elements original to the house and fold them into the new design", explains John. "For example, we included the motif from the exterior fireplace into the porch columns. We also added casement windows, that match the originals found on the house, to the front façade so that we could get airflow through the house, and we moved the front door to the side because we wanted to add an entry, which it lacked." Derek added that "Deborah and John were really committed to the quality of the work and to the materials used."
For the porch flooring and ceiling they selected natural Douglas Fir tongue and groove; the front door, light fixtures and hardware are all in the craftsman/bungalow style and the landscaping features drought tolerant plants."
As for the construction, Derek explains "how important it is to get the proportions right when all the shapes are built from scratch. There was a lot of debate about the width of the stairs, and how much space the columns would take because Deborah and John wanted sufficient space on the porch outside of the traffic flow to place a couple of chairs, sit outside and be able to do what the porch is designed to do, which is engage the street."
"The great thing about these front porches and what is so appealing is that we use them all the time", adds John. "They encourage conversations and friendships. And because of this connection we have to the street, the whole neighborhood knows and looks out for each other. Restoring the porch added value to our quality of life, to the house, and to the street itself, which still has that kind of older feel to it. It's still city living, people come and go, we have active and busy lives, but it has that throwback sense because these porches give character and personality to the street. It still speaks to that idealistic idea of connecting the home life to the street life, something that has been lost in modern neighborhoods where the garage has become the entryway and life happens inside."