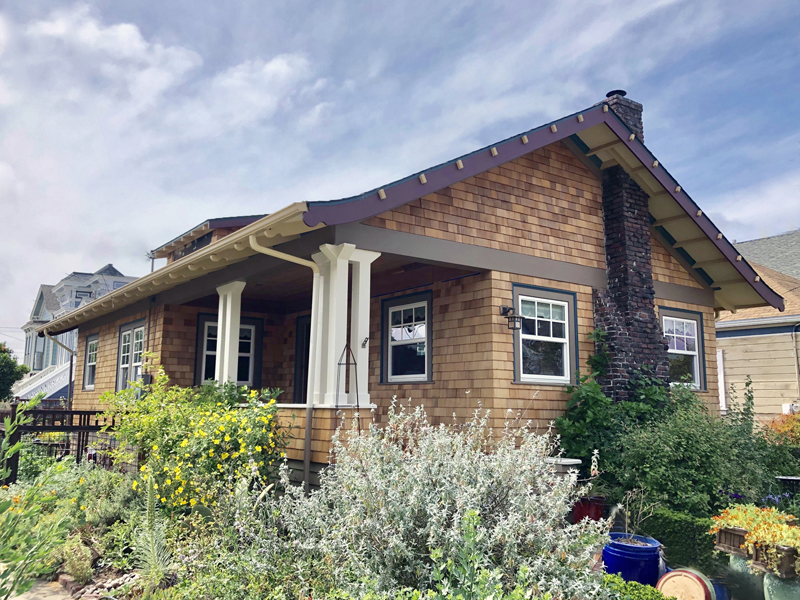 Story by Conchita Perales
Award Recipients: Jerry Schneider, Owner; Don McLean, Carpenter; Oliver Govers, Govers Sidewall Shingling; Bob Buckter, Color Consultant.
When Jerry bought his house in 2008, he knew it was an example of a very early 1900s craftsman cottage, and it was love at first sight. Its history was all there, in its design and stature, and the connection and insight he experienced at that moment was unmistakable, he would restore it.
The house had been another victim of an unfortunate "remodel" that had taken Alameda and other towns by storm during the 1950s. The façade and exterior appearance of the house were totally modified: a thick layer of stucco replaced the original shingle siding, a set of windows were added to the porch hiding two of its distinct columns, and the Douglas fir floor was topped with plywood. Along the way, exterior moldings would be removed and two windows completely covered over.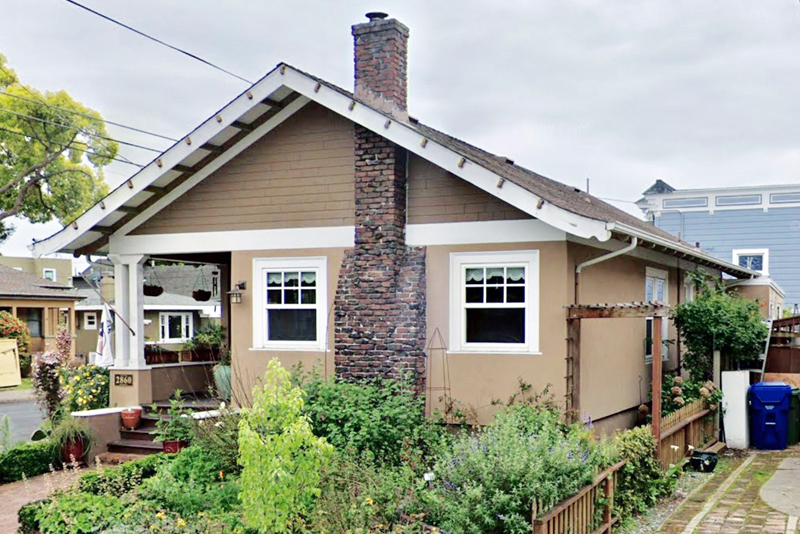 Jerry, what was the driving force behind removing the stucco and replacing it with shingles? From the moment I bought the house my goal was to bring it back to its original glory, and I knew there was more to it under the stucco exterior. Six months after moving in I completed a small house project in the back entry, and this is when I discovered that the original shingles were still there, right under the stucco. It was at that moment that I decided I would one day remove it and uncover the original shingles. That day finally arrived! And I didn't need an excuse, there were no underlying issues like cracked plaster, water damage or a new coat of paint, I was ready for the project.
What surprises did you run into during the restoration process? First off, it's very unfortunate that the previous owners replaced the ORIGINAL wooden windows with AWFUL white veneer windows. So I was thrilled when I discovered two small original windows that had been covered up by the stucco, complete with their frames and glass. I didn't know they even existed because these 
windows had also been covered up with sheetrock inside the house. One is on the west side, the standard "cubby hole" window you'll typically find in Craftsman houses. The second is a small bedroom window on the NW side of the house. 
Both discoveries where a big surprise, as well as finding the shadows of original moldings that had been removed when the stucco was added in the 1950s.
Another great discovery occurred when we started work on the porch and we uncovered two of the original columns. They had been encased in plywood when a large breeze window was added as part of the 50s remodel. And, to my excited surprise, when I removed the painted plywood that had been laid over the porch floor—hooray! —the original Douglas fir floor was still there! Unfortunately, parts of it were rotted and I couldn't save it, so I replaced it with the same wood to match the original and it looks amazing. I also sanded and stained the ceiling with a clear varnish to bring out the beautiful Douglas fir grain that had been hidden under layers of paint and stucco.
How long did the process take, did you have a strategy? It took about 10 months from beginning to end, which was longer than I expected. It's a habit of mine to seek out highly skilled individuals who are "off the radar" to do the work I need, and these skilled craftsman are busy contractors, so I had to wait for their schedules to open. I also chose to do a fair amount of the work myself, so my progress was slow because my free time is limited.
One setback to the project was not being able to preserve the original shingles. Once the stucco was removed, it was obvious that the shingles were badly damaged from the nails that held the wire lath in place. It was shingle expert Oliver Govers who provided the unique batch of Cedar shingles to replace them; they're beautiful, almost mosaic in their quality and color, something we would've not been able to accomplish if we had tried to restore the existing ones. Now the house looks as it probably did when it was just built!
Are you happy you took the project on after the expense and hassle? Let's all agree the ORIGINAL architects and builders of these old houses KNEW exactly what they were doing when they chose the materials to build them. Remember that these houses were built during a time when they CARED that the house looked perfect, not only to themselves but to their neighbors, and town. It was an art to build a house. I am very happy I brought the house back to its original look. I just wish the four previous owners had not modified the house with their misconstrued actions and ideas about "remodeling" and "upgrading".
Do you have any advice for someone looking to take on a project like this? Do not hold back! Take the house back to its original look and intent, without question. Be diligent, meticulous, patient, and caring. It will all work out as long as you stay firm and persistent. In the end, it is fun and exciting. And when you're finished EVERYONE will congratulate you and douse you with praise. You will be a hero to the community.
As a final thought, I want to say that the work was worth it. The feeling of accomplishment and achievement cannot be replicated. The true feeling that you did something right and pure is not only self-satisfying but also highly satisfying to others who see what you did. So, all your work and investment makes others feel better, and if I may say, the neighborhood, town, city, and world alike.