Classic Alameda Streetlights are Ready to Light the Way
Story by Brian McDonald
Award Recipients: Alameda Municipal Power

In 1886, Alameda became one of the first cities in the country with a municipally owned electric company. At the same time, Thomas Edison and others were developing incandescent light technology in the hope that it could be made a practical alternative to gas lamps. In fact, the first commercial installation of electric lights occurred six years earlier on the steamship Columbia.
Within a couple of decades, the technology for electric bulbs had advanced enough that streetlights were a practical application. In 1911 the Alameda Department of Electricity embarked on an ambitious program to light all the major streets in town with electric fixtures. The original fixtures were short posts with round globes on top. This style remained the standard until 1925, by which time the city had installed over 4,000 such fixtures all over town. Many remain, mostly on side streets in residential neighborhoods.
Beginning in 1935, the city began to replace the pole lamps with taller pendant style fixtures (ones where the bulb hangs down from an arched or horizontal cross beam). From 1935 to 1958, the city adopted several different styles and technologies. After 1958, they went with modern "cobra headed" street lighting.
Over time, citizens came to appreciate the grace and beauty of the various older styles, and in 1987, the City Council declared 1,297 of the classic lamps to be historic structures. However, by the early 2000s some of these increasingly ancient structures were deteriorating, and it was time to consider necessary restoration. On October 4, 2012, the Historical Advisory Board approved refurbishing 684 of the pole lamps and fluted fixtures. The original plan was to replace the structures with fiberglass replicas, but preservationists convinced the city that they would be too different from the originals to meet federal preservation guidelines. The final plan was to replace the steel poles and repair and repaint the shrouds, arms, and fixtures. The refurbished elements would be attached to the new poles and reinstalled. Foundation work, new anchor bolts and extensions, trench work, and new wiring and conduits would be done as needed.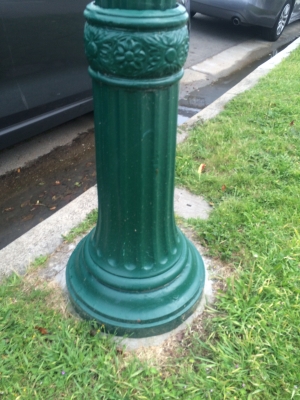 Under the direction of project manager Ludwig Simpao, Alameda Municipal Power completed the work between June, 2014 and June, 2015. The restored lights are as beautiful as they were when installed decades ago, and ready to light the way for decades to come.