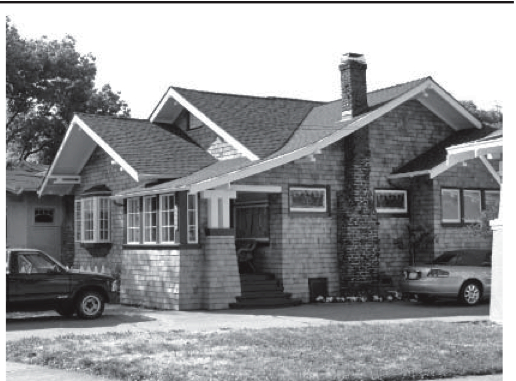 by Denise Brady
"This house is like a Grandma, it hugs you when you walk in." That is how Michele and George Tercero describe their Craftsman home built in 1915. The house deserved some loving care. Asked when the decision was made to remove the asbestos shingles, Michele promptly replies "20 years ago, the first minute that I saw it!" She goes on to say that she had it painted once but that she would have preferred removing the stuff. Last summer she finally got her wish.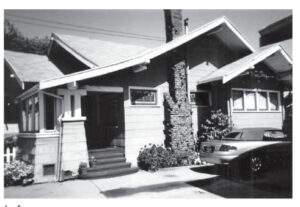 Removing asbestos shingles can be a gamble. You are never completely certain what you will find underneath. Sometimes homeowners are fortunate to find the original siding or shingles in good shape, sadly this was not the case. What they found instead was a Pandora's Box. Most of the shingles were cracked and rotted. The front porch was dry rotted as well as most of the roof eaves. The roof also needed to be torn off and replaced. Everything had to come off! Once everything was removed down to the sheathing, Michele labeled it the "naked house".

Michele coordinated the renovation effort with some very valuable guidance from Tom Kirk Construction. There was a steady stream of workers. It seemed as though there was something new to see almost every day. All the wood shingles were hand cut on site by Shingles on the Side. The front porch had to be rebuilt, new eaves were custom milled and replacement windows ordered.
One thing they were not expecting was all the attention they, or the house, would be getting. Apparently no one had told them about the Restoration Groupies. They met all the neighbors and many others. Cars slowed down or parked across the street with onlookers. Neither of them could tell you just how many people inquired about their contractors.
Who did your windows? Your shingles? Your roof? "It was constant!" says George. At times it might have seemed bothersome, but overall they got the sense that what they were doing was being noticed and that others wanted to do the same.
It was important to the Terceros to do the restoration the right way, including all the details. They describe their experience as wonderful and enjoyed working with terrific contractors who pulled it all together in about four months. They are pleased, and so is the house!