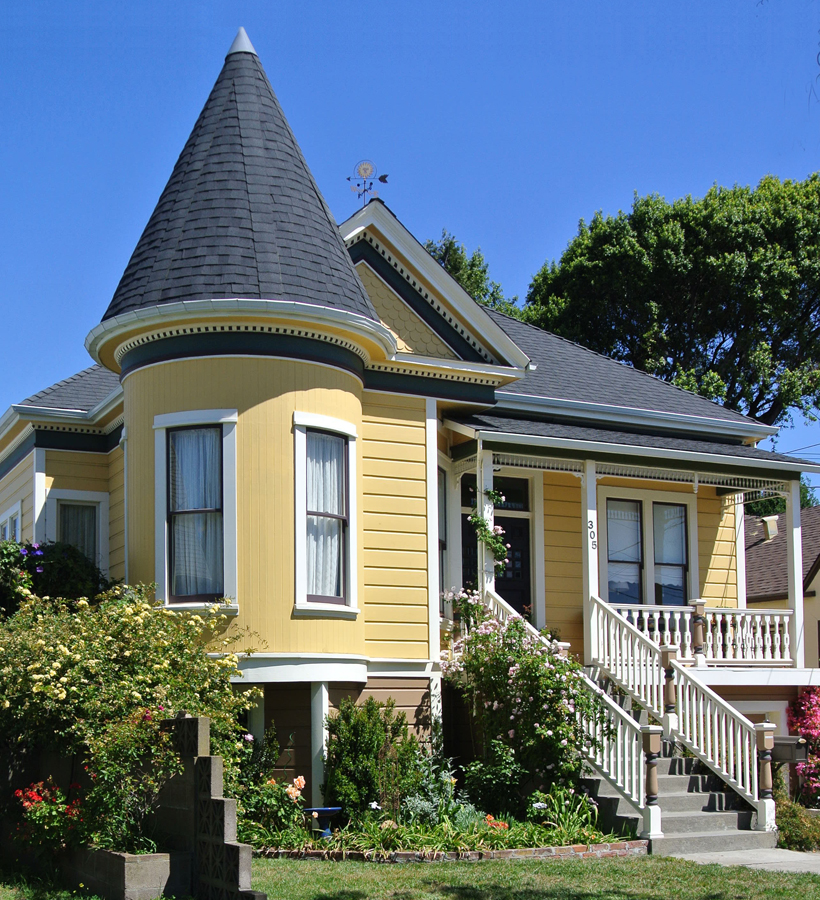 Picture-Perfect Porch
Story by Jerri Holan

Award Recipients: John and Elizabeth Warmerdam, Owners
Looking a bit worn in a City photograph from 1979, this Queen Anne Cottage didn't look much better in 2003 when Elizabeth and John Warmerdam decided to purchase the property for their family. It was still covered with asbestos shingles and sported the corner turret.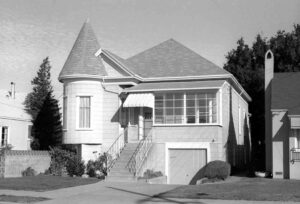 But it did look a bit different — the sunroom porch had been eliminated, the metal awning removed, and metal railings installed. Unfortunately, the differences were not improvements.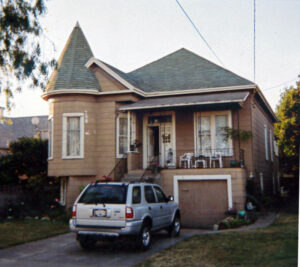 Like any home of this vintage, the home was in need of new foundation so, in 2004, with the assistance of their skilled contractor, Gourley Construction, John and Liz decided to make the basement habitable by removing the brick foundation and adding three bedrooms and a bath on a new slab foundation. Instead of raising the home, they kept the home's original height intact and dug down, satisfying zoning regulations as well as preserving the neighborhood's character. And so began their efforts to restore this lovely cottage, bit by bit, inch by inch.
One of the first things that went were the asbestos shingles below which they found the original siding. They saved what they could, replaced what they had to. The turret was originally sheathed in bead board so that too was restored, and the Victorian eave and gable dentils, which were still extant. Board siding was removed from the gable end and fish scales took its place. In 2008, John got rid of the metal railings and columns and redid the porch in wood with generous Newell posts and carved pickets. Queen Anne spindle brackets were added to tie the porch posts together. And, finally, in 2012, the disgraceful aluminum windows were removed from the turret and custom wood windows installed with genuine curved glass, a real rarity these days.
The rear of the home also received improvements and the cavernous Queen Anne attic was transformed into a family entertainment center. But one of the best things about this revival is what's inside. What you can't see from the sidewalk are the lovingly restored 11' tall ceilings, which extend throughout the interior. A previous occupant had installed 9' ceilings, probably to save energy, and John and Liz took them all down!
John and Liz saved the best task for dessert. When they replaced the aluminum windows, they also consulted with Dr. Color, aka Bob Buckter, for appropriate colors on their modest cottage. He kept them in the golden family, but with a dash of aubergine and a splash of teal, he made their home sparkle. So much so that it landed in The New York Times when an article about Dr. Color featured their humble home.
Thank you John and Liz for all your efforts. You've restored a cozy Queen Anne and it's finally picture perfect!