A Phoenix in Disguise
Story by Jerri Holan
Award Recipients: Owners – Ruben & Araceli Quezada
Architect: Thornton Weiler
Contractor: Tony & Gonzolo Gonzalez, Calsystem Restoration Services
When the 2015 fire from next door spread to the roof of 643 Central, no one could have imagined how the Victorian cottage, ca. 1894, would eventually arise from the ashes. Two years later, after much loving restoration, the humble dwelling has been brought back to life.
The fire remediation work was quite extensive. The roof and all the windows were replaced and the interior was completely gutted. During the course of putting it all back together, the owners, Ruben and Araceli Quezada, and their architect, Thornton Weiler, poured through period books and millwork catalogs to faithfully bring back period details to their small home. Both Ruben and Araceli are humanities professors, so historical research was almost second nature to them.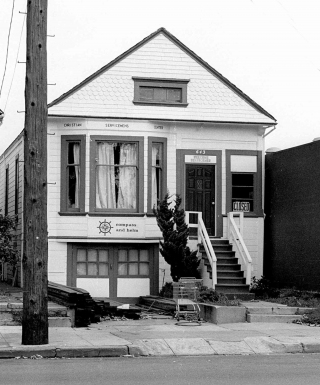 The Quezadas purchased their home in 2012 and discovered its twin right around the corner on Taylor Avenue. Using it for inspiration, the owners brought back the covered front porch that had been concealed. They also discovered the original chamfered porch post and are reusing it to support the roof. New stairs were widened and centered on the front door with generous turned balusters all of which bring back period proportions to the front facade. 22 windows were replaced with wood double-hung windows (including ogee lugs and Victorian trim!). They removed the melted vinyl siding to discover original shingles and replaced them faithfully on front and rear gables, including the scalloped courses. They even discovered some original windows on the property-line wall but had to cover them back up for fire safety. And once they saw the City's 1979 photo, they decided their new garage doors would match the original carriage style doors.
According to Thornton, the project was an architect's dream job: complete period detailing inside and out, including the fireplace and interior staircase. Period light fixtures and traditional wainscoting grace the small but airy interiors. The basement was made legally habitable and the new back porch matches the front with turned wood balusters. Period colors, wainscoting and finishes on the inside complement the newly restored exterior.
In all, the restoration work cost $450,000 but was worth every penny. In fact, while the fire was certainly a disastrous event, for this phoenix, it was a blessing in disguise. The home has been refurbished, strengthened, and restored – it's ready for the next 100 years. Alas, 641 Central has yet to be reborn. But we hope 643 will be its inspiration.