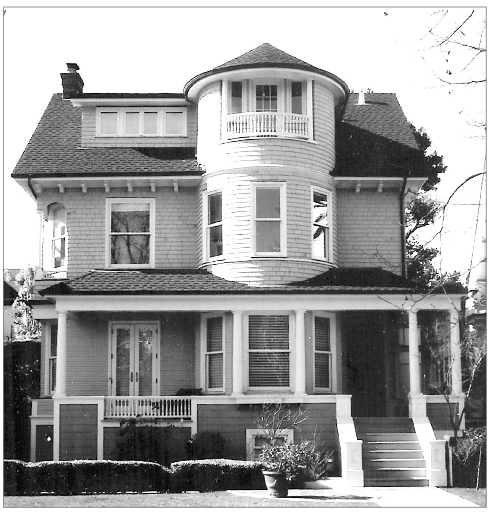 Fire and Water
Story by Jeannie Graham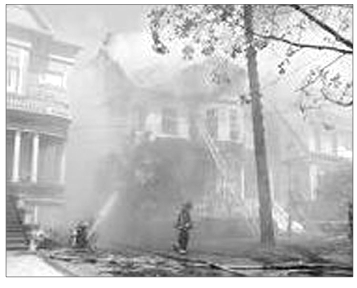 On May 12, 2003, the Alameda Fire Department's 28 personnel, seven fire engines/trucks, three ambulances and Duty Chief responded to a reported 3-story structure fire at 1011 Grand Street—a beautiful Queen Anne Colonial Revival residence, originally built in 1895, for a cost of $3,818. Upon arrival, the crew found a raging fire that started in the third floor wall and spread quickly to the attic. The fire went to three alarms, requiring aid from the Cities of Oakland, Emeryville, Piedmont, Berkeley and the Alameda County Fire Department.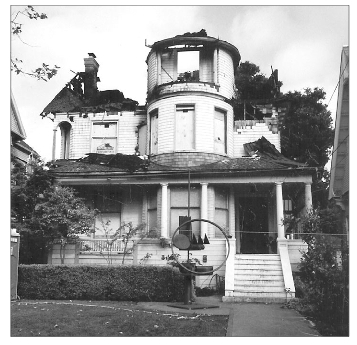 Alameda's City and Fire Department records reported that this stately residence, valued at $1.2 million, suffered $900,000 worth of damage, including $250,000 worth of furnishings— including some valuable sculptures and wood workings by artist and homeowner Garry Knox Bennett.
HISTORY PRE-FIRE
Garry and his wife, Sylvia Bennett, bought this lovely Queen Anne home, originally designed and built by A.W. Pattiani & Company, in 1970—making them the fifth owners of this Grand Street mansion. Garry is an American woodworker, furniture maker, metal-worker and artist, known for his whimsical, inventive and unconventional uses of materials and designs in his work. Sylvia is a jewelry maker. They raised their three boys in this three-bedroom home.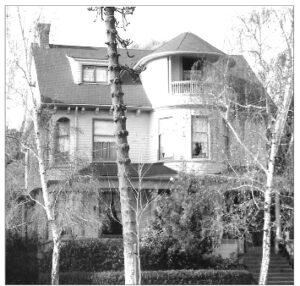 Since purchasing the home, the only upgrade made by the Bennetts was the addition of a glass wall and glass ceiling garden room/redwood sun porch, off the kitchen, that Bennett, his sons and Italo Calpestri designed and constructed in 1980. Bennett made the window escutcheons in wax, then cast them in bronze, made a mold and cast multiples in pewter. "It's very Japanese" Bennett says. "I'm a great admirer of Japanese and Korean architecture."[singlepic id=324 w=210 h=151 float=right]
POST FIRE RENOVATION
The Bennetts were preparing to sell their home and move closer to Garry's studio in Oakland. They were in the process of replacing the roof when the devastating fire damaged over half their home. They were amazingly flexible, took the fire in stride, and looked into hiring a renovation team to design and implement a plan that recreated their 19th Century building with a 21st Century structure—inside and out. Their team consisted of architect Italo Calpestri, contractor Donny Chu, of DC Construction, and engineer Vincent Wu, of Baseline Engineering. Congratulations goes out to all—as the complete restoration and renovation effort was completed in 12 months—making this 100+ year old home into a beautiful, fully functional and architecturally stellar residence!
The homeowners, their restoration team, and the City of Alameda all agree that this magnificent renovation effort was completed with great style, workmanship, love, care, enthusiasm, and a magnum of close attention to detail. All innovations were designed and decided upon based on bringing the home up to modern standards while keeping its true original style and character.
The major architectural, repair and restoration efforts that served to completely restore the residence back to its original elegance over a 12-month time frame included:
The house was stripped down to the studs. The basement and the brick foundation were flooded, requiring a new reinforced concrete foundation with steel moment framing in order to make the home sufficient by today's standards and codes. This retrofit design increases the home's resistance to earthquakes. Integrated steel moment frames (not visible) were installed to strengthen the original balloon framing and provide the home with added seismic resistance. Knob and tube wiring was replaced with a modern electrical system. The hydronic heating system was replaced. Insulation in walls and ceilings was installed to meet modern standards. Doors and moldings were saved and restored or replaced to match originals. Hardwood floors were repaired or replaced. The existing chimney was repaired and retained. The majority of windows required replacements—mostly on the third and fourth floors. The main floor windows were saved and reframed/molded. The front entry stairs and interior stairway were restored. The bathrooms were modernized, with period fixtures. All wood siding and trim was replaced, consistent with the original siding and shingle patterns. The roof was composition shingle and replaced with same. The belvedere balcony window was completely replaced, including framing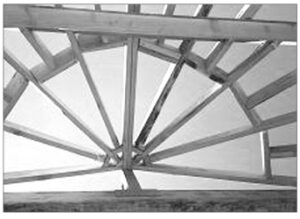 The most challenging restoration element to overcome during the project was dealing with the water saturation. Fortunately, some of the water saturation/soaking effects dried out as the construction proceeded—providing much needed time for getting specifications, drawings and permit processes completed. However, none of the finishes were left intact—all finishes needed to be removed and restored, repaired or redone.
A real benefit to the restoration resulted from a unique capability of the contractor. DC Construction has their own millwork shop that replicated all the original trim and molding patterns. They also put in a mechanical room with electronic upgrades that control and monitor the home's data network or Internet, cable and fiber optic systems, phones and security. DC Construction videotaped the wiring and plumbing schematics before the walls were closed to help current and future owners with the details.
The Bennetts didn't live in the home during its restoration, and have now sold it—but not before they took loving time to enjoy the Victorian grandeur and comfort they created with expertly designed modern upgrades and conveniences.