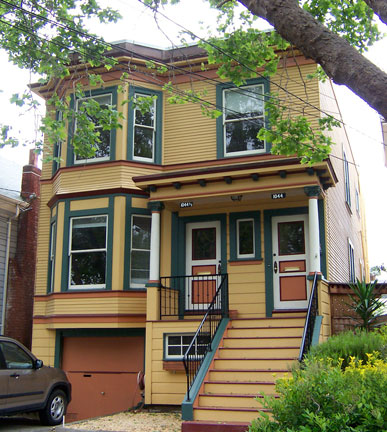 We Could Take This On

Story by Rosemary McNally

Award Recipients: Nancy and Wayne Marzolf
When Nancy and Wayne Marzolf saw 1044-1044 ½ Central in 2005, their first response was, "This is ugly. The front is ugly. The sides are ugly. The front stairs are awful." It was covered with what looked like tarpaper brick siding. After some research, we have found the official name was "waterproof building manila." Today, it's a puzzle where that name originated. Despite the siding covering the building, a bit of redwood siding was still visible. Nancy and Wayne were inquisitive and adventurous. They were willing to consider the building, and assessing the building's potential, their second response was, "We could take this on."
Soon they were the owners of this 1895 Edwardian. Then they researched other buildings of this vintage and style. They walked the streets of Alameda for hours, taking note of similar buildings. Then they started working on their new home.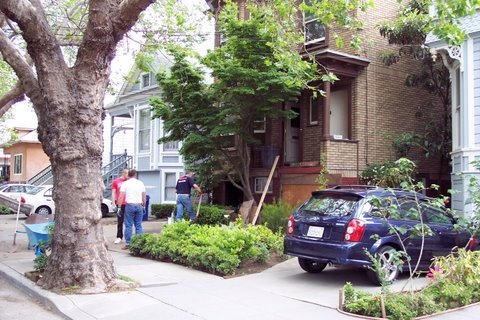 The first job on their list was removing that tarpaper brick siding. Each piece of siding was 12" x 36" and had about ten nails in it. Removal was labor intensive, and it took two months of weekends and evenings to remove the siding. In the late 1940s, all of the trim had literally been ripped off the building's surface. Then the building was covered with the "waterproof building manila" siding with a mineral coat in an attempt to mimic brown bricks. Wayne believes the building had probably been painted in the late 1940s, and then covered with that siding. He estimates that by 2005, when he removed the siding, 50% of the building's exterior was bare, raw wood.
Inside, while they were scouting around in the basement, they discovered a redwood banister, took it upstairs, and said, "Voila! It used to be up here." They were happy to reinstall it in the house.
Over the next ten months, Wayne, a licensed general contractor, worked with his friend, Kenny Brown, concentrating on the front and sides of the building. They were guided by the many scars they found from the trim that had been torn off years earlier. In addition, there were still some visible paint lines, and they had Economy Lumber make custom trim pieces, such as the water table. Original windows are still working and have the authentic wavy glass. The front doors also appear to be original. By mid 2006, they had brought the street side of the building, including the front steps, back to what they most likely looked in 1895.
When it was time to choose paint colors, they were advised to choose colors (light grays and white) similar to neighboring houses. After more research, Nancy stepped up and found historic paint colors at Mark's Paint. The result is a vibrant color scheme using Lafayette Green, Dorset Gold, Cottage Red, Atrium White, and Sienna Clay Orange. Upon completion of the painting, Nancy and Wayne were delighted when people who had lived in the neighborhood many years ago complimented them on their attractive color scheme.
Currently working on the back of the house, Wayne and Nancy are pleased every time they look at their house. Visionaries, they saw the potential that had been covered up, and have restored 1044-1044 ½ Central back to life.