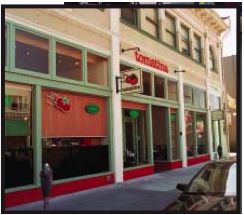 People Places

by Denise Brady
When the Naval Air Station closed down in 1997, doom and gloomers predicted bad times for Alameda. Not John (Jack) Knowles, he envisioned something very different for this island city when he bought the two buildings on Park Street from the Delanoy family. Jack has found his niche in the world of commercial real estate. He has a passion for older buildings and for the interaction of everyday life. "You need to work in neighborhoods, retail follows people. It's all about people coming together. Alameda is terrific in that aspect".
1336 Park: (currently Tomatina). This Classical Revival building was originally contracted in 1901 as a one story building by Delanoy and Randlett. The second story was added in 1902. A rear annex was added in 1904, known as the "Park Theater" and it was Alameda's first Vaudeville and cinema theater. The annex still exists and Jack recently discovered a beautiful tin ceiling which had been hidden for years.
Both of the Park street buildings originally had offices on the second floors. Two notable tenants of the corner building were renowned architects Joseph A. Leonard and Charles Shaner. During World War II there was a housing shortage in Alameda due to the influx of civilians working at the Naval Air Station and the second floor offices were converted to apartments.
Despite the huge amount of work and expense, Jack says it has been worth it. He is grateful for all the effort that went into it by his architect Lisa Harvey and his contractor Jeff Doolittle. The project brings a new vitality to downtown Alameda with lively outdoor seating areas and an inviting mix of restaurants, boutiques and offices. "Downtown reflects the fabric of life in a community. A good way to grow a neighborhood is to start with a coffee shop and a bookstore". He is happy with the results and says "I want to own them the rest of my life".