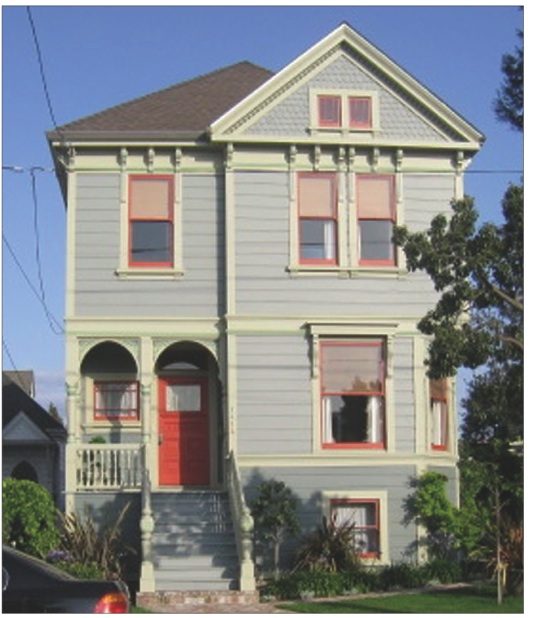 Story by Janelle Spatz
Award Recipients: Mark, Dianna and Cole Wyman
It all started with a big, old, run down, brown shingle house for sale just one block from their office, close to their son's school, and boasting a separate unit ideal for their mother. When describing their first look at 1414 Lafayette, Dianna recounts, "I must confess that I held my nose when I walked in and must have been a little delusional because I said this is perfect. We have to buy this house. It won't be that much work." Mark tried to talk her out of it.
This would be the fifth home they remodeled. Although they had never remodeled a Queen Anne, it couldn't be that much harder. It turned out to be more work than they imagined. Just one year into the remodel, after completing the interior, a major fire broke out, sparked from the painter's heat gun. They had to redo much of what was just completed. With that timetable and emotional setback, it took them three years to complete the interior and exterior.
The first day they walked into the brown shingle they were amazed to find it was a Queen Anne inside. In George Gunn's book documenting Victorians, they read that 1414 Lafayette was built in 1894 for Margaret and John Grey, owners of a lumber company in San Francisco, and was one of three homes in Alameda built by Mutual Building and Investment Company. They were surprised to learn that it was the Leonard Frost Construction Co. who in 1907 removed the exterior ornamental millwork and applied the brown shingles.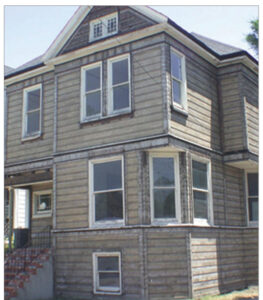 There were no old photos of the home to inform the Wyman's restoration, but there was discoloration on the old redwood siding to use as a guide for the width and placement of some of the gingerbread. The two other homes built by Mutual Building and Investment were of some help, but they had undergone alterations and were in disrepair. So the Wymans canvassed Alameda studying other Victorians.
They wanted to return the house to its original style and floor plan. Their goal was to keep the original floor plan without removing too many walls, and to choose surfaces and finishes that would blend with the Queen Anne style.
Ken Gutleben and Mike Calpestri dug out the basement and poured the foundation and Ace Roofing put on the new roof, while demolition was underway. Windows were replicated and installed to replace the rotted ones, Dave Massey did the electrical, the plumbing was redone, Amazing Hardwood Floors replaced, installed, and refinished the floors, Perri Tile did the kitchen and bath tile work, and Kevin Leech brought in plasterers who re-plastered the new sheet rocked walls. The plaster walls, although expensive, are one of their favorite features of the house. Sue Pickard, an excellent contractor and good friend, did many of the unusual and detailed jobs that no one else could attempt.
Every project needs a hero, and their hero was John Weigel, carpenter. He replaced missing pieces of crown moldings, corner blocks, re-hung doors, framed in bathrooms, installed kitchen cabinets and moved doorways. With John, they would drive all over town, knocking on doors to ask homeowners if they could measure their balusters, study their stair case, and talk about Victorians.
They are very appreciative of the craftspeople that worked on their home, including the staircase construction and design ideas by Jim Spalding and John Weigel; Newell posts turned by Mukesh, owner of American Woodturning (fka Gail Redmond); and the corbels, brackets, and spindles made by Peter Smalley in Oakland. A special thank you goes to their neighbor, the Immanuel Lutheran Church, for enduring the construction noise and dust.