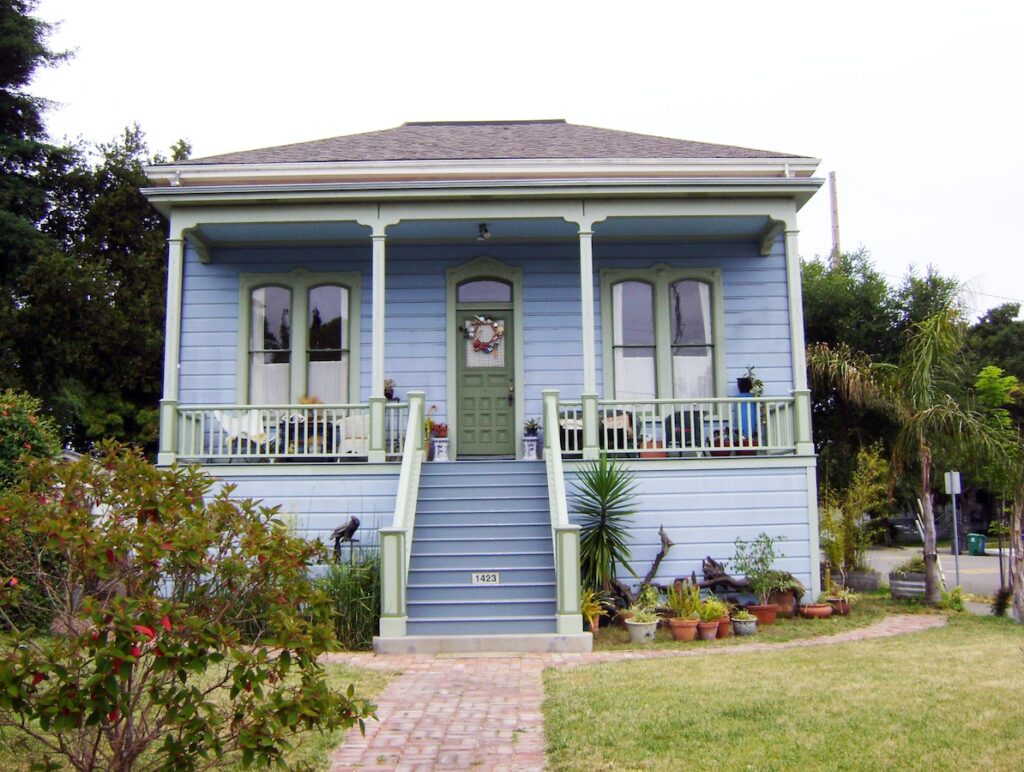 A Labor of Love
Story by Woody Minor

Award Recipient John and Diane Dove
John and Diane Dove purchased their charming Italianate residence at 1423 Versailles Avenue in 2004, moving to Alameda from Oakland so their son could benefit from the local school system. Born and raised in Berkeley, John and Diane love old houses, and they felt an immediate connection with their home on Versailles.
Built in 1880 for a widow named Jane P. Rowe, the high-basement cottage had been enlarged in 1884 with a rear addition for rental or resale by Dr. Calvin C. Knowles, who lived next door in a spacious Italianate that is no longer standing. The Doves became the proud owners one of the oldest houses in the East End, on a prominent corner lot across the street from the 1920s Fernside tract.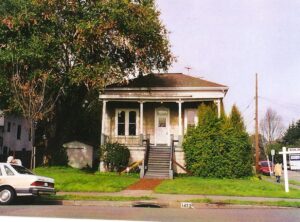 When John and Diane took possession, the house was nearly uninhabitable; however, they took pleasure in the many original features, including carved brackets under the eaves and delicate incised ornament on the porch posts and entry. The interior featured a central hall with embossed wainscot, vintage wallpaper, parlors and bedrooms with fireplaces, and an airy dining room and kitchen at the rear. But the house had suffered from decades of deferred maintenance—brick foundation, unfinished basement, sagging front porch—and one major misguided improvement, in the form of gray asbestos shingles ("transite"), applied to the exterior walls in 1947 over the original channel-rustic wood siding.
Their first tasks involved stabilizing the structure and removing the transite. Once the transite shingles were off, the old lead-based paint could be removed and the original siding restored. At this point another major hurdle revealed itself: all of the original detailing had been removed when the transite shingles were applied! This was the first of many projects that were executed while the couple worked at their jobs and conducted day-to-day lives.
The unfinished basement, with dirt floor, was excavated to provide adequate height for usable space. A concrete foundation and floor was put in. The bricks from the old foundation were used for walkways in the newly landscaped yard. The basement, with recycled vintage columns and wainscot, is midway to becoming an art studio for the couple and their college-age son, all artists.
The new foundation included the footing for the structurally challenged porch extending across the front of the house. In addition to the structural renovation of the porch, the boxed posts were deconstructed, reinforced with new interior posts, and reassembled, along with new balusters and rails that John milled himself. In addition, the corner boards and water table were milled and applied. The house's exterior is presently coated in tinted oil-based primer to preserve the redwood as it awaits other trim details that have not yet been restored. As the house is a work in progress, the final coat and color have yet to be decided.