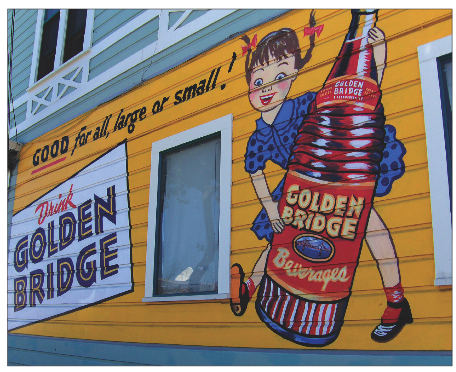 Golden Bridge Beverage Sign
Story by Nancy Hird
Award Recipients: Mr. and Mrs. Kyoo Kim, building owners; Michael McDonald, restoration artist; West Alameda Business Association; City of Alameda Development Services Department, Façade Grant Program
When Mr. and Mrs. Kyoo Kim decided to paint their building located at 1431 Webster Street, they wondered if there was any historical importance to the faded 1940s Golden Bridge Beverage sign. Their sons contacted Kathy Moehring at the West Alameda Business Association to inquire about the sign and learned that it dates from the 1940s.
Kathy then went to work with Sue Russell of the city of Alameda's Development Services Department to obtain a Façade Grant to restore the original painting. The Façade Grant Program is used to enable good design and a financial incentive to building and business owners in the Park and Webster Streets business districts and historic train stations.
The original sign, drawn and painted free hand by D.E. Handley, was one of 43 and it is the last one remaining. It is listed on the City of Alameda's Architectural and Historic Resources List published in 1994. Golden Bridge Beverages of San Francisco started out in 1923 making root beer exclusively and bottling the drink in Oakland through 1966. As the company added flavors, the sign was altered to reflect different drink menus. This march of time was discovered in layers of paint during the restoration process on the left side of the painting. The company ultimately lost its market share to Dr. Pepper.
Local mural artist Michael McDonald completed the sign restoration. Michael worked at a deep discount over the period of a month to bring the sign back to its original vibrant look. He spot-primed multiple layers of mostly lead paint to reduce the environmental impact of totally priming the wall. In some places he discovered and removed automotive paint, which may have served as a short-term touch up. At some point, the sign had been covered with wood and Michael removed nails that had held the wood in place.
When it came time to actually paint the sign, he used samples of the original colors to mix modern day pigments to come as close as possible to the historically accurate colors. There are two shades of black; one for the border and one for the beverage inside the bottle. Since D.R. Handley detailed his sign with two shades for different effects, Michael duplicated the original sign painter's effort. The newly mixed colors were then encapsulated in Kelly Moore's Durapoxy so the sign will retain its vitality. The result of Michael McDonald's work is a stunning glimpse of a street scene on Webster Street from 60-70 years ago.
We are fortunate that the Kim family recognized the potential value of the faded sign, the West Alameda Business Association and the city of Alameda had the grant money available and Michael McDonald had the talent and attention to detail to bring the sign back to life.