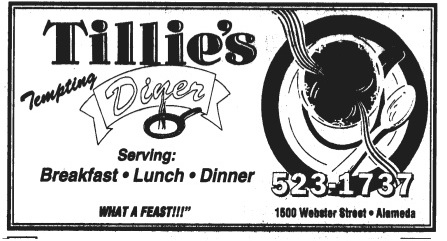 Tillie's Tempting Foods
Tillie's, an independently-owned and operated restaurant at 1500 Webster Street, makes a positive contribution to Alameda's West End. In 1996, the owners and the operator of Tillie's removed a facia and rejuvenated the exterior paint, the signs, and the tiled bulkhead. These efforts gave the restaurant a sophisticated Art Deco-Art Moderne look.
The refreshed Tillie's enhances the restored Trans Pacific National Bank across the street on Santa Clara Avenue. Its renovation also reinforces the efforts of nearby businesses –Croll's, Santos Liquors, and the Webster Street Hotel–to shore up community historic and architectural values. Tillie's also contributes to the community with good food at reasonable prices.
The building at 1500 Webster Street was constructed in 1916 for Alameda attorney George T. Wright, who commissioned local architect A. W. Pattiani to prepare the design. Its first tenant was the Alameda Dairy Company, which processed and retailed milk and Better-Maid ice cream there and at its other outlet, 2320 Central Avenue (see Skylight Cafe, page 5). The building was remodeled in the sleek Streamline Moderne fashion in 1940, a make-over supervised by the architects Bliss & Fairweather.
In 1949 the Dairy Company moved, and the site housed a series of restaurants with whimsical names: the Golden Cow, Pam's Glorified Ham & Eggs, and since 1970, Tillie's Tempting Foods.
Inside Tillie's, the owners pay tribute to old Alameda with a display of historic photographs. Images include early firefighters and their horses, postmen taking their ease, Alameda's first house, and a luscious hand-tinted picture of Neptune Beach. They also feature photos of 1906 quake damage on the island, Crolls in 1903, and both 1896 and 1910 views of the intersection of Webster Street and Santa Clara Avenue, where Tillie's is located.
Funds from the City of Alameda Community Development Department were used in the renovation of Tillie's; all those involved deserve credit for a job well done.