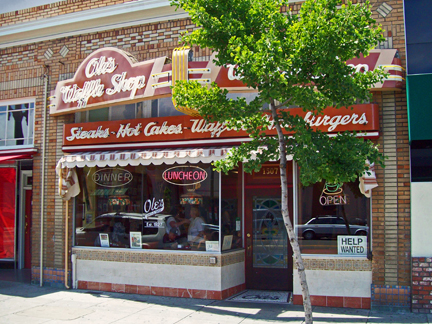 A Success in Balancing Change with Continuity: Ole's Waffle Shop Façade Remodel
Story by Richard Rutter

Award Recipients: Vickie & Ken Monize, Business Owners; Doug Durein, Property Owner; A. Rule Designs, Architect; Marchetti Construction, Inc., General Contractor; City of Alameda, Community Development Department
Ole's Waffle Shop is a monument in this town. It's not an Official Monument, of course. It has not been formally designated by the City Council in a grand proclamation, but it is a monument in the community, nonetheless.
The common interaction amongst all people there—employees and customers alike—is just as important and just as fulfilling as the food.
As a business, Ole's Waffle Shop has been around since 1927. It once had two locations: one in Oakland, and one in Alameda. The former location in Oakland is now a parking lot. Now in its 86th year, Ole's has been owned by the same family since the 1960s. The three generations of the family who actively participate in the ownership and management this venerable institution were faced with a dilemma. The restaurant was tattered about the edges. Ole's needed a freshening up. Changes were required, and wanted, but how would "new" be integrated with "familiar"? How would a delicate balance between change and continuity be maintained?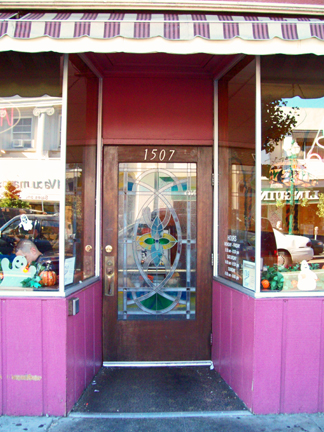 Vickie Monize, a member of the family's second generation, contacted Dick and Annie Rutter, long time Ole's customers. The Rutters run A. Rule Designs, an architectural business just around the corner, and up a flight of stairs. Specializing in the rehabilitation of old buildings, the firm also has extensive experience in restaurant, hospitality, and retail design, as well as in construction project execution while keeping a business operating.
Since Ole's is a small business with limited finances, keeping the restaurant in continuous operation during the course of construction was a key component for this project's success. Customers would be walking through the middle of the construction area, during the complete demolition of the existing storefront, and the construction of a new one. Dust, debris, and noise, as well as public safety and building security, had to be kept under complete control at all times.
Workers who could install show window glass, stone, tile, antiquated building materials and methods like terrazzo, and who could also rehabilitate a 60-year old historic neon sign, and an old operable awning, needed to be found as well. Planning construction times around the annual Park Street Art and Wine Fair, the Fourth of July Parade, and other community activities was also required.
While largely privately financed, help in paying for the project came from the City of Alameda's Façade Grant Program. More than a quarter of the Project's total cost originated from this source. Unfortunately, the City's Façade Grant Program has been terminated as a result of sunsetting Local Redevelopment Agencies throughout the state. Ole's Waffle Shop Façade Remodel was the last project completed in Alameda utilizing this funding.
Since the remodel has been completed, new and old customers alike are happy with the results. The carpet is new, and so are the paintings on the walls. You can still rely on the home cooking in the place that still feels like home. The waitresses still know your name, and whether or not you take cream with your coffee. Ole's Waffle Shop looks fresh, but is still familiar. Change is in balance with continuity.