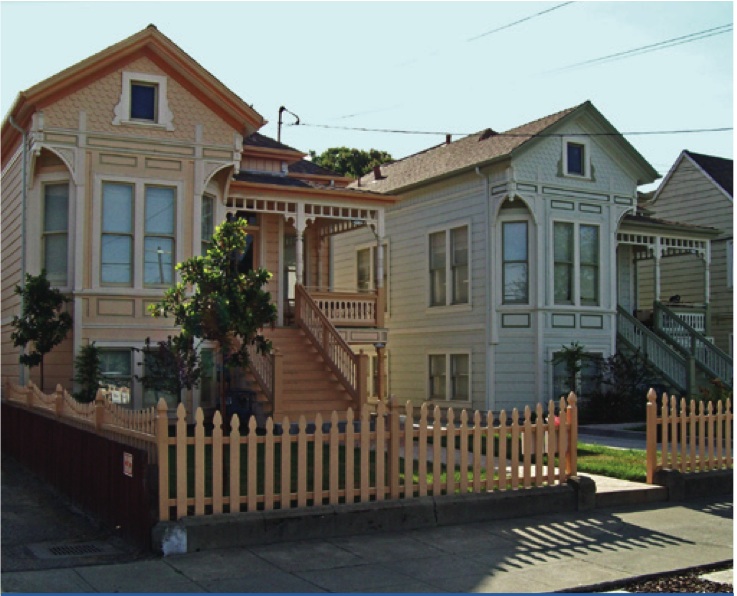 Story by Richard W. Rutter

Award Recipients: Mohamed Elhashash and City of Alameda, Development Services Department

In 1891, two wooden high-basement Queen Anne cottages were built on adjacent lots by Cyrus A. Brown. He had moved to Alameda in 1876, and soon after his arrival began constructing residences on speculation. By the time he was through, Mr. Brown had completed more than 25 residences on the island in addition to a number of residences in surrounding communities.
At some point in the past, the houses at 1530 and 1532 9th Street came under the ownership of one owner. Over the years, they were subject to a variety of cosmetic remodelings, most of which were intended to reduce maintenance costs. Gingerbread trim and Victorian brickabrac which got in the way of a long-ago cement asbestos shingling campaign disappeared. That which didn't, got covered up in the process. Both houses were sold to Mr. Mohamed Elhashash, the current owner, in 2005.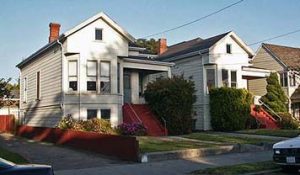 To assist rehabilitating the buildings, Mr. Elhashash applied to the City of Alameda's Substantial Rehabilitation Program. This publicly funded program provides financial and technical assistance to private property owners who wish to improve the condition of the City's existing housing stock, which in turn creates affordable rental housing units for low-income families. Housing Choice Vouchers are given to qualifying low-income families. Rental units created under the Substantial Rehabilitation Program are then rented to people with Housing Choice Vouchers. A property owner must agree to rent these low-income units for a period of not less than 15-years in order to draw funds and technical assistance from the program.
Rehabilitation of existing structures, especially those over a hundred years old likely will be fraught with many unknowns during construction. The community desired that Victorian gingerbread and trim, long gone, be replaced during the rehabilitation process. Until the existing asbestos siding was removed, it was unknown how much of this trim might be encapsulated, and how much would be missing, and thus have to be reproduced. New properly proportioned and detailed Victorian gingerbread and trim is quite expensive in comparison to how a modern building is detailed and constructed. If a lot of Victorian trim must be provided, and expense contingencies for it have not been built into a construction budget, resistance to its installation will soon follow.
Alameda citizens value their community and their cherished Victorian houses. As a result, projects which come under the community's magnifying glass can at times become a frustration for the less committed owner. During this project, Mr. Elhashash and Alameda's Development Services Department came under the community magnifying glass, yet both remained committed to the desire to go the distance, and to do a good project.
After the asbestos shingles were removed, it was discovered that much of the original surfaces were intact under the asbestos, including the panels between and under the windows and the scalloped shingles in the gables. "Ghosts" or "shadows" of other missing trim were also revealed under the asbestos and this information, combined with detailing on two other relatively unaltered houses also built by C. A. Brown one block away at 1430-32 9th Street were used as a basis for replicating many of the missing trim elements. The original design of the 1430-32 9th Street houses appear to have been very similar to 1530-32, so the neighboring houses were good models.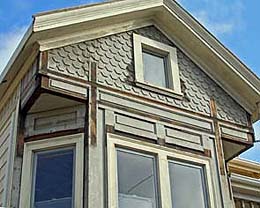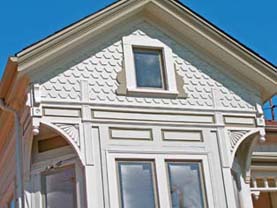 Some of the elaborately turned original porch posts were encapsulated within the asbestos covered posts and other porch posts were milled by Pagliacco Turning & Milling of Woodacre, California to match these. New porch and stair railings milled by the owner were modeled after those at 1430-32 9th Street. Other millwright work was done by Mad River Woodworks in Blue Lake, California, and additional interior trim and custom moldings cut by White Brothers in Oakland.
Note the horizontal pipe rails above the restored wood porch railings installed so as to meet the U.S. Department of Housing and Urban Development rail height standards while still preserving the important proportions of the restored wood railing. New double glazed wood windows, manufactured by Uribe Co. Windows, Doors and Cabinets in Oakland, were installed that are almost identical to the original wood windows.
The final product shows a superior effort which has received universal approval, and deserves to be recognized.