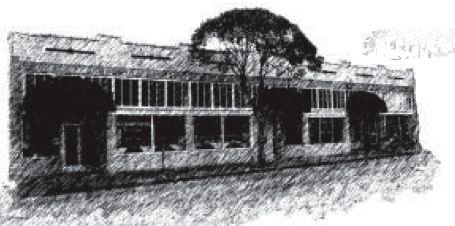 The Powell Building – A Transom
Transformation on Park Street

by Jean Graham
In 1925, the early 20th Century "parapet" style commercial building at 1532 – 1540 Park Street was designed and built by Myron H. Fish, an active builder of homes and commercial buildings in Alameda. The Powell Brothers (Royal, Charles and James), of the Powell Brothers Construction Company, purchased the building as an investment property—thus it became the Powell Building. The building was constructed along with several other structures that had been destroyed by the Park Street Fire of 1920. The Powell Building began with six commercial tenants, while now it hosts three businesses: Genghis Khan Kitchen Restaurant, Bazaar of Antiques and Luque's Upholstering.
The Powell Building remains in the Powell Family and recently completed a major renovation that focused primarily on structural upgrades. Architect, Ron Giddings, provided the design for City approval and D&D Construction was hired to complete the necessary structural work. As the structural work began, it soon expanded to include a major uncovering and restoration of transom windows that had been covered by wood siding and signage. When the windows were discovered, many were damaged and many needed to be rebuilt. Restoring the transom window front was a tedious and time consuming process, but the transom windows now classically frame the building with an 'original era' style.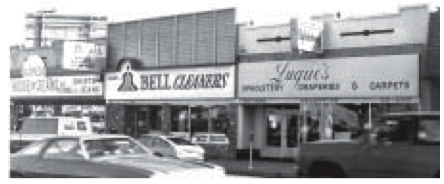 Also uncovered were beautiful terra-cotta tiles with a snowflake finish. Dick Hawkes, of Dick Hawkes Classic Painting, stripped, built up, and painted the tiles and snowflake finish that now may be seen across the top of the building. In addition to the terra-cotta tile, many black and blue ceramic tiles were also found, cleaned and polished and now elegantly surround the door openings. Rather than having unique storefronts, the building has a uniform cream color, textured stucco finish, complemented by the addition of black balloon awnings, designed and installed by Belaire Engineering. The business names are all featured by antique gold lettering on the windows, a unifying detail.
The Powell's applied for and received a Facade Grant from the City of Alameda, totaling $8,500, and their tenants applied for Grants that rendered $5,750 toward the cost of the new balloon awnings. The Powell Building structural renovation expanded into a detailed exterior renovation project that resulted in a building that's now a visual treat for the Powell family, the building tenants, their customers and for all of us who stroll by this historic 'post-fire' block of Park Street.