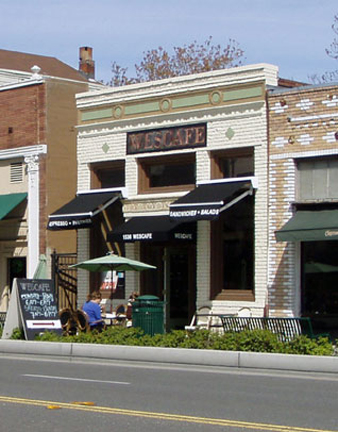 New Chapter for an Old Building

Story by Jerri Holan

Award Recipients: Miguel & Monica Trejo
Old is new again as coffee shops once more become community magnets. Out are generic designs of chains like Starbucks & Peet's, in is a new type of café more rooted in location, authenticity, and unique character. In Alameda, WESCAFE is the real thing—a 1916 landmark building reincarnated into a popular café.
With vision, some seed money from Alameda's Façade Assistance Program, and lots of TLC by its current owners, Monica and Miguel Trejo, a run-down bank building was transformed into a local gathering place. Their success seems to be stimulating other business along this short but vibrant section of Webster Street, often a forgotten area of Alameda's commercial community.
WESCAFE is wedged between two adjacent brick buildings of about the same age. The immediate neighborhood is a wonderfully preserved block of old buildings that recalls Webster Streets early business origins. Two-story Victorian wood buildings on the north end of the block are complemented by single-story brick commercial buildings on the south end, reflecting the commercial development of the area from about 1875 when the West End Victorian resort boom started until about 1920 when shipyards and different construction materials spurred development. Monica and Miguel's rehabilitation used simple materials to create a distinct and friendly café. The design retains the tactile character of the original building and celebrates traditional materials.
On the exterior, original brickwork and large wood windows have been painted while the decorative brick cornice and beautiful plaster frieze have been restored. On the inside, traditional tilework on the floor and dark wood trim work is reminiscent of the building's 1916 vintage. Stamped sheet metal ceilings and period light fixtures complete the period ambience while wall stenciling adds the handcrafted quality of local artisans. Colors are soft and traditional, again respectful of the building's era.
On sunny days, patrons can utilize sidewalk tables or head inside where they can sit or stand as their fancy suits them. The deep narrow lot contains two original buildings separated by a courtyard which has been reconfigured into a covered patio, complete with trees, umbrellas and a soothing fountain, giving customers another outdoor seating alternative available year round. The vintage café feels as if it has always been there, concealing the enormous amount of work that transformed this old bank building into a favorite eating-place.
A new kitchen was installed while plumbing, mechanical, and electrical systems were completely replaced and brought up to code. After collapsing in a storm DURING the remodel, the roof was totally rebuilt and the Trejos added an office and prep area on a mezzanine floor.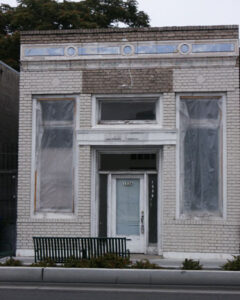 Before the Trejos took over the lease on the building in 2009, it had been vacant for years. For many decades, the building housed a bank, which closed sometime in the 1980s according to permit records. It then housed a frame store for a couple of years, but after that, it sat neglected and blighted.
In 2008, with Sue G. Russell's assistance, funds from the City of Alameda's Façade Assistance Program were used to paint the façade with soft pastel colors, highlighting the handsome building's proportions and elegant materials and regaining some of its lost character. A few months later, the Trejos signed the lease for their new café and a new chapter began for this humble brick building with a long history on Webster Street.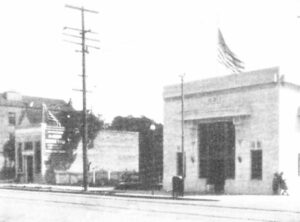 Built by the Powell Brothers in 1916 for $2,663, the original owners were the West End Building Association, a chamber of commerce-like group, which promoted business and real estate in this part of Alameda. The prominent nearby bank on the northwest corner of Haight and Webster was also built the same year by Master Architect John Hudson Thomas, an indication that the period was an important one for Webster Street. Webster Street's most prosperous era lasted from about 1915 through the 1940s, coinciding with the Bethlehem shipyard on the north end and Neptune Beach at the south. Webster Street's first banks (West End branches of local banks), its first large movie theater, and its first wave of brick and reinforced concrete buildings date from the early years. By WWI, fire limits had been established along both frontages of the street, requiring brick or reinforced concrete construction. The office building for the West End Building Association, along with two larger buildings—Alameda Savings Bank (1917) and the Neptune Theater (1920)—was one of the street's first brick structures.
While this small renovation project seems modest in the large scheme of things, in fact, it's a very important building in the context of Webster Street and commercial development in Alameda. The building is eligible for the California Register of Historic Places and the community is thankful to the Trejos for bringing this distinguished jewel back to life—it's a wonderful example of adaptive reuse done right.