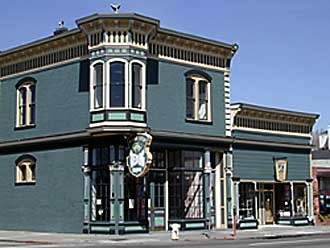 The Fossing Building
"Bringing It Back to Life"
Michael and Linda Wright recently celebrated their renovation of 1629 Park Street by hosting a Chamber of Commerce "mixer" in the newly opened One Stop Wedding Shoppe that just moved into the corner storefront from elsewhere in Alameda. Chamber members swarmed into the building, curious about the glamorous makeover of a legendary structure in the Park Street Historic District. The Fossing Building was designed by prominent Alameda architect Charles H. Foster, credited with many residences, as well as the first city hall, the first high school, and the Palace Grocery on Lincoln Avenue, another AAPS Preservation Award winner this year.
The property was originally owned by grocer John Charles Fossing, who lived upstairs with his family. The structure is of architectural significance; it is the oldest masonry structure in Alameda, and it sports the oldest cast iron storefront here. Next time you visit, take along a magnet to identify the cast iron pilasters that decorate the building, their foundry marks debossed with the manufacturer and construction date, "City Iron Works, S.F. CAL 1886."
When the Wrights, who operate the Fort Knox shops on Park Street and Webster Street, bought the building, it had a nickname, "the Silver Building" for the unusual paint scheme chosen by the previous owner. The property had been virtually abandoned for years; as Mike said in an interview with the Alameda Journal, "We are taking it apart and putting it back together again…. trying to get the building back to its original 1880s state."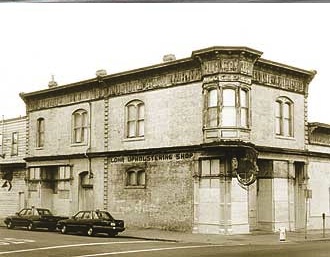 Because of several decades of neglect, the Wrights' project was a major one, including seismic work, replacement of concrete, altered roofline, and a new water drainage system. They also concocted a new paint scheme, replacing the silvery coating with authentic shades of green plus gold leafing on the embellishments. They also decided to keep the sign on the storefront, as a reminder of the Lohr Upholstery establishment that operated there for many years.
Mike worked on the job at the Fossing Building full-time for almost four years, and he had been the focus of incessant questions, mostly from people who wonder why the project is taking so long. In a pun on his last name, he responds with a rollicking, "I'm trying to do it right!" Linda also responds when people wonder what the structure is going to be, "It is just a building, and we are bringing it back to life!"