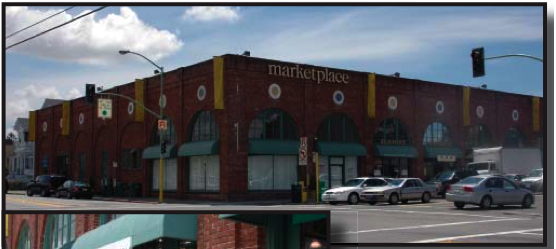 by Jean Graham
Donna Layburn, Gerald Mackey and Paul Hossack opened Alameda Marketplace in January 2002 as an upscale collective of artisan merchants selling natural and specialty foods and products. She's transformed the 20,000 square foot 1930's-era building from a vacant Ford Motor dealership to a fresh, gourmet faire-style marketplace. With the combination of the solid patterned brick, the original 23 beaming 'natural light' skylights, and multiple open beam trusses—this structure now provides a most inviting, yet dramatic open market splendor.
After nearly 12 months of cleaning up oily old auto parts, the Marketplace opened, ushering in an era of upscale shopping for residents. Donna's credibility as a natural foods pioneer and her vision for forming a community of 11 merchants passionate about natural and specialty foods—including organic groceries, flowers, meats, fish, pastries, kitchen products, coffee, tea and a 'soon to be an announced' gourmet restaurant'—also passionate about natural foods—this historic building has been reinvented into a stunning European-style market—right here in Alameda.
Background

Frank Dietz, of Dietz Motors Company, built this masonry structure in 1930, for a cost of $30,000. Dietz Motors opened on December 12,
1930, as a Ford dealership and has continued to be a succession of Ford dealerships, with different owners, over the last 50 years. Its original color was white. Dietz hired Angelo Heweston, of Oakland, to be the architect. Heweston subsequently built Dietz' home, in Fernside. The builder was Conrad Roth, a very prominent, well-known Alameda builder. Today, the Dietz Motors building is the second oldest car dealership standing in Alameda, with the oldest being where Alameda Beauty College (a former car dealership) now resides–across from the Alameda Theater.
In a nutshell, outside of removing the white paint from the bricks, for a more natural look, and a $300,000 earthquake retrofit completed in 1990, this Ford dealership building has remained 'untouched' for over 70 years. Then comes Donna…
Adaptive Reuse Resources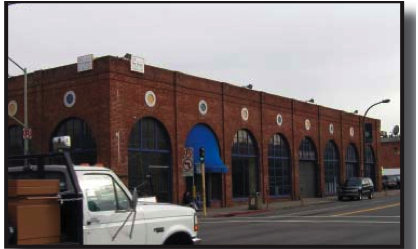 Donna hired Dennis Kobza, of Dennis Kobza & Associates, of Palo Alto, and Toby Long, AIA, of Toby Long Design, of San Francisco, as the renovation and adaptive reuse architects for her inspiration. Alameda Power and Telecom was contracted to provide the required upgrades to bring the building up to code and to facilitate the new multiple-tenant environment. All original knob and tube electrical has been replaced with modern wiring.
Ms. Layburn took on her vision and venture without state or federal grants, but did take advantage of Redevelopment Grants offered through the City of Alameda. The redevelopment grants assisted with sidewalks, awnings, restored front doors and some of the electrical and plumbing work required for food production/processing providers.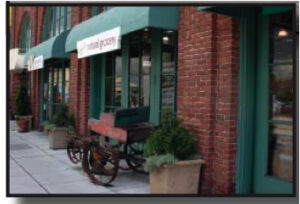 To convert the 'motorized' interior into an open market, the once two- story building that featured sales offices on the second floor, had the ceiling removed—making the building into one big room. All beams and tresses have been renewed through a process of sanding, priming and painting. All 23 skylights were cleaned, secured and touched up. Inside the Marketplace, one can't miss the extraordinary interior feature that surrounds the natural grocery–three large whimsical murals featuring Bay Area splendors, created by artist Claudia Chang.
Thank you, Donna Layburn for artistically restoring the long-abandoned Ford dealership. The building now houses what's basically a grand tribute to the new Alameda: the Alameda Marketplace.