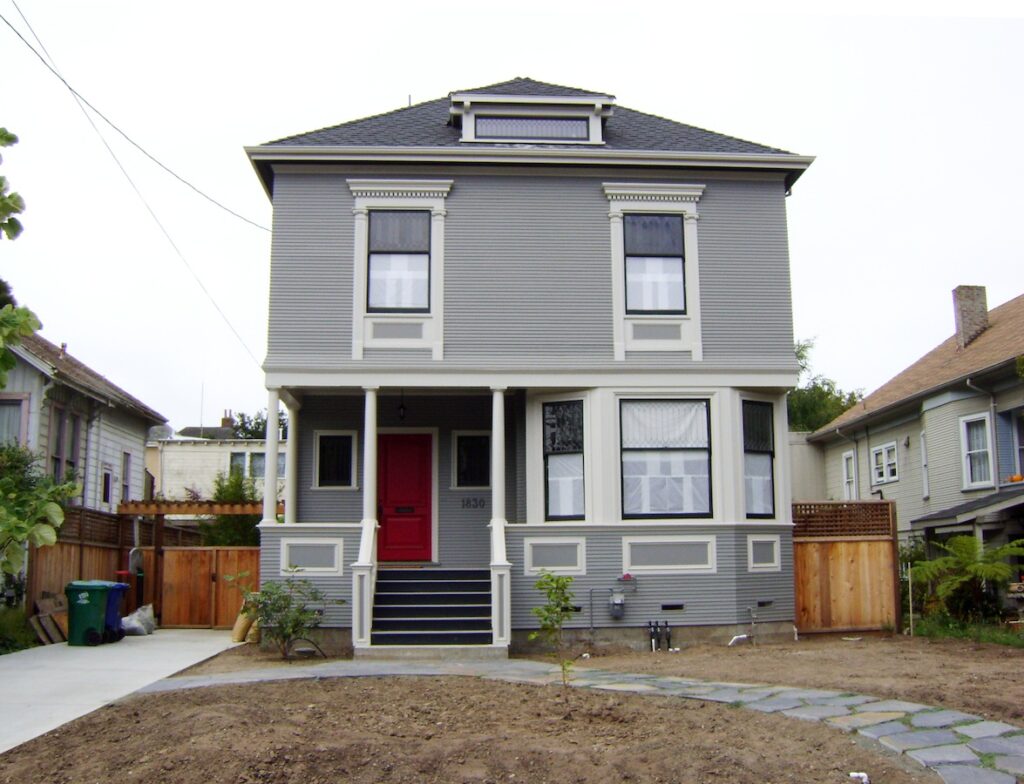 Colonial Revival Survival: 1830 Alameda Avenue

Story by Denise Brady
Award Recipients: Katja Huebner and Gaurav Kapur, Owners
Katja Huebner and Gaurav Kapur bought this sorely neglected Colonial Revival home in December 2010. The home was built in 1899 for Miss Jessie Jamieson, a teacher at Encinal School. Despite its deteriorated condition, Katja and Gaurav could see that it had once been a very elegant home and they were willing to take on the challenge of a major restoration. The challenge became even greater when a fire broke out in January 2011. Fortunately the primary damage was to the interior and the rear portions, and it did not affect the wonderful front exterior.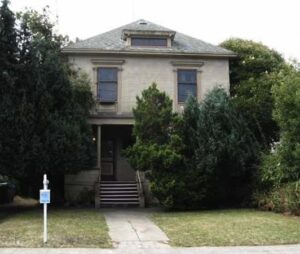 The front porch was sagging and rotten in various places with one of the columns sinking. It had concrete steps and 1950's sort of metal railing. The contractor fixed the structural issues and they re-built the stairs in wood with custom made balusters. They did a lot of research in order to come up with a design that fit the period and the scale of the house.
All of the windows, except the leaded ones, were replaced. Some were fire damaged, whereas others were dry rotted or not appropriate to the house, such as louvered or aluminum sliders. They used Jeldwyn custom, double pane, mostly double hung. Some were casement, but they kept the original sizing and placement for most of them.
They wanted to visually join the front bay windows, as well as the west side windows. This was accomplished by connecting them with the trim that mirrored the existing trim on the upper front windows. They put panels beneath these sets of windows to further unify them, as well as to "anchor" them and to repeat what was existing on the front upper windows. In general the bottom half of the house was very plain and "floating" a bit, so they wanted to tie it all together with the existing details and make it look more whole. They spent a lot of time and money on trim for the house, both exterior and interior.
All of the leaded glass windows were repaired by Ken Matthias at Alameda Art Glass. The very top window in the roof dormer is new – it replaced an ugly broken plain window. It now has the lovely leaded detailing found in the lower bay windows. Again, their desire was to pull together the design elements in order to unify the façade.
The general contractor for the project was Pat Fellowes and they were very pleased with his advice and how he kept things moving. This was a massive project with several things going on at once. They learned first hand how sequential things are. The attention to detail and the quality craftsmanship paid off. The end result is a stunning example of a restoration done right.