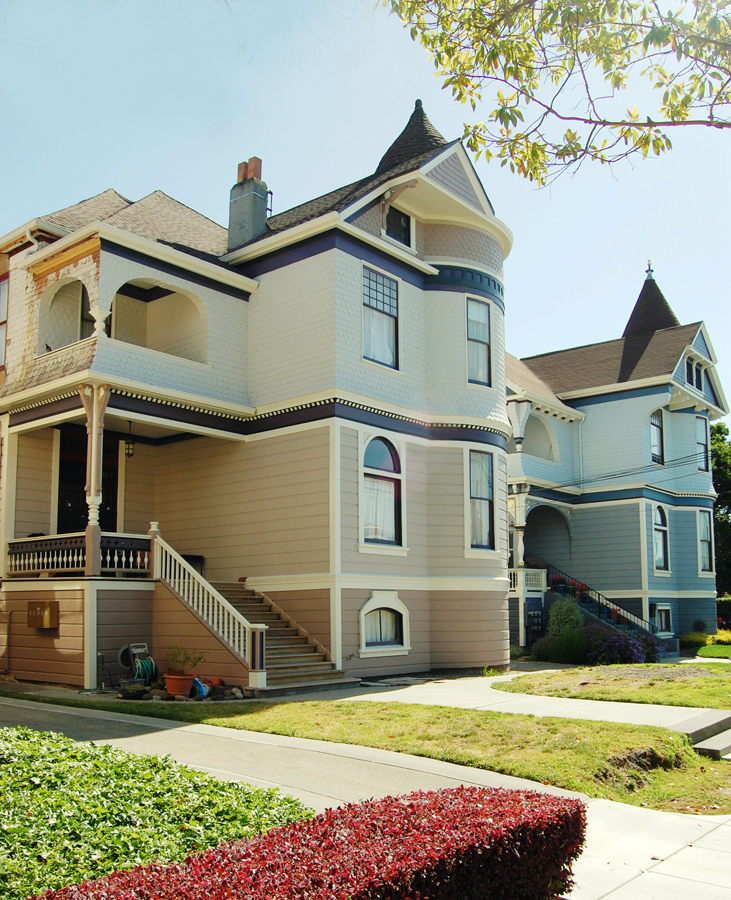 Dreadful Exterior Hides an Intact Interior
Story by Jim Smallman

Award Recipient: Jim Smallman, Owner
In 1971 Jim Smallman bought his first Alameda Victorian, a dilapidated six unit rooming house, with good bones. After six years of "sweat equity", this first house was rounding into shape as a single family home. With more spare time now, Jim took exploratory bike rides around Alameda to see what others were doing. In the summer of 1976 he visited a yard sale at 1837 Clinton, a Queen Anne house that had seen better days. The seven electric meters on the front, along with a dreadful stucco cocoon told him the sad story: The once proud mansion had been chopped up into apartments, and another classic had been lost.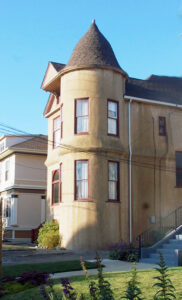 Well, not quite. Chatting with the yard sale operator, Jim discovered that the seven electric meters covered two adjacent Queen Anne Victorians and a separate four unit apartment building, all on contiguous property and under single ownership. Most exciting, the interiors of both Victorians were intact. Coffered ceilings, curly redwood paneling, walnut and mahogany staircases, beautiful mantles—all unpainted—original American Encaustic tiles. Only the kitchens and bathrooms had been seriously compromised.
Jim remembered this visit a year later when he spied an ad in the commercial real estate section of the Alameda Times Star for "Six Units on Clinton", with no other description. No mention of Victorians. Pretty sure the ad was for the two "dreadful exteriors" on Clinton, he called the owner. After confirming the property identification, Jim bought both Queen Anne Victorians in a single transaction, and became a landlord.
Fast forward thirty years: Jim returned from Southern California exile to retire in Alameda. Never forgotten, the two houses, which had "purchased" themselves and put his kids through college now had their turn.
In 2009 and 2010, the corner house was restored, receiving a coveted AAPS Preservation Award. In 2011, work began on the sister house, 1833 Clinton Avenue. John Jameson, who worked on 1837 Clinton Avenue, again stripped stucco and restored exterior trim, finishing the front and one side. Bob Buckter created a tasteful color scheme. The tenant moved in June, 2014, and serious work began: foundation, stripping remaining stucco, and restoring exterior trim.
Award-winning architect Jerri Holan designed a beautiful kitchen and reimagined a former first floor maid's room into a combined laundry and bathroom. This second home now settles into an elegant second life as it was always meant to be: a wonderful family home. It and its sister next door are ready for their second century.