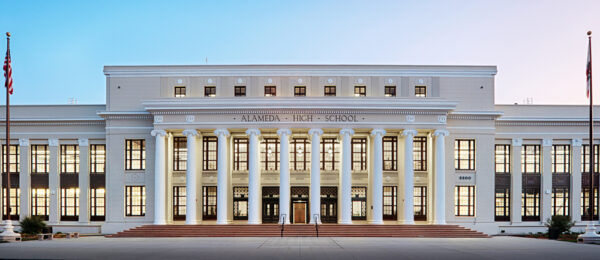 Historic Alameda High School
Story by Kay Weinstein
Award Recipients: Robbie Lyng, Director of Construction, Alameda Unified School District; Mark Quattrocchi, Quattrocchi Kwok Architects; Chris Warner, ZFA Structural Engineers.
Restoration of the Historic Alameda High School was truly a monumental project. A preservation award is being given in recognition of five achievements: major seismic retrofit; in-kind replacement of deteriorated original wood windows; correction of extensive deferred maintenance; sensitive interior renovations to accommodate twenty-first century education in 45 classrooms 11 new science labs; and an excellent paint job.
Architect Carl Werner was born in Philadelphia in 1875. Following graduation from MIT in 1895, he established O'Brien and Werner Architects in San Francisco. In 1907, he designed and built his Arts & Crafts home at 1303 Bay Street in Alameda. He was active in planning schools, residences, churches and a number of buildings for the Masonic Order. Notable San Francisco projects were the Orpheum and Golden Gate Theaters, as well as Sequoia Union High School.
In 1922, Carl Werner began his solo practice in San Francisco, and would soon design the Historic Alameda High School in the Classical Revival style. With its impressive Greek-temple-like form, this style was used for courthouses, banks, churches, schools and mansions. Classical Revival style buildings often have massive columns with Corinthian, Doric or Ionic capitals; topped by a front-facing pediment. The arrangement of windows and doors is formal and symmetrical. Construction began on the Historic Alameda High School in 1924 and was completed in 1926, at a cost of $1 million.
Opening in 1926 for 1,248 students, Alameda High School was the pride of the community. It consisted of a central building with 10 classical Ionic columns dominating the main entrance, and the east wing (the Science building) with two grand columns of its own. The two buildings were reinforced concrete and had a 900-foot frontage at 2200 Central Avenue. An impressive structure that covered nearly a city block, it rivaled the 1895 City Hall and the 1902 Carnegie Free Library as one of the largest public buildings in Alameda. The school's theater (Kofman Auditorium) featured 2,300 seats, one of the largest auditoriums in the East Bay. Historic Alameda High School has received city, state, and national landmark status.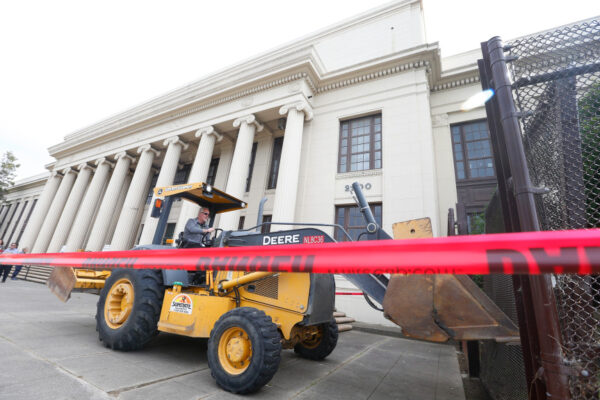 In 2012, construction manager Robbie Lyng invited architect Mark Quattrocchi to walk through the two buildings of Historic Alameda High school. Dangerous structural problems were identified, and the old central building was declared unsafe. Mr. Quattrocchi designed and had built a brown seismic debris fence that encircled the buildings, and shored up the high school's walls with braces and anchors so they wouldn't fall too far away from the building in an earthquake. In 2014, 63% of Alameda voters passed Measure I, a $179.5 million bond that funded the restoration of the Historic Alameda High School. Groundbreaking was on April 24, 2017.
Restoration began underground. First, to stabilize the sandy soil under the historic building that could cause liquefaction in an earthquake, engineers injected grout into the ground at 6,000 different spots. They also drilled helical piles, which look like corkscrews, 30 feet into the ground to anchor the buildings to more stable soil.
The most challenging part of the retrofit came in the insertion of steel seismic cross beams that created a building within the historic building of structural support. They're on all three floors and are set at 45-degree angles to the walls, and provide bracing and lateral resistance in the event of an earthquake. Steel piers were also placed to supplement the original concrete columns to withstand 3,000 pounds of force per square inch. Some of the 1.2 million pounds of steel had to be dropped down from the third floor to the first floor. Portions of the roof and the floor had to be removed in order to drop the steel down using very high cranes.
Restoration work was carefully executed with close attention to original forms and details. The bronze doors at the main entrance were cleaned, but not polished, to conserve the patina of a historic building. Many of the original windows needed repair, but the wooden sills and brass handles were retained per agreement with Alameda Architectural Preservation Society. A total of 977 windows were restored by Sullivan Thompson Restoration of Oakland. They also restored the plaster urns outside. 188 new windows, with matching hardware, were constructed by Matheny Factory of San Leandro. Wood cabinetry and even classrooms' original baseboards were restored. When original trim could not be saved, all mill work was customized to match. The original terrazzo floors were restored inside and outside the buildings.
The large amount of windows throughout both buildings allow classrooms to use just natural light instead of electric light at times. The Science Building's third floor also features three restored 16-foot-by-16-foot skylights that illuminate the entire floor with natural light. The two restored historic buildings feature new bathrooms, plumbing, electrical wiring, cooling and heating systems, fire alarms, public address system, data and projection systems. Outside, there are new ADA compliant ramps and stairs to make accessibility to the buildings easier. The stately beige paint and white trim, new benches and landscaping complete the $55 million project.
A grand re-opening was held on August 8, 2019. Due to the outstanding quality of restoration, Alameda High School is again the pride of the community.