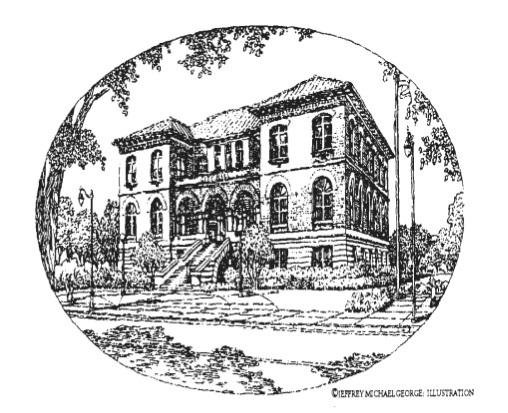 Alameda City Hall
On September 21, 1997, following a two- year, $7.7 million rehabilitation, Alameda City Hall was proudly rededicated by Mayor Ralph J. Appezzato and other civic leaders in a Sunday afternoon ceremony attended by hundreds of guests. A century earlier, another generation of Alamedans had witnessed the original dedication of this building, which has come to symbolize both the city's Victorian heritage and its future hopes.
Back in 1893, the Board of City Trustees (predecessors of the City Council) announced a design competition for a new city hall. Twenty-seven architects submitted plans. In 1894 the $500 first prize went to the noted San Francisco firm of Percy & Hamilton. Later that year, Alameda voters approved a $50,000 bond issue to finance construction. Festivities and speeches accompanied the laying of the cornerstone May 16, 1895, and the building was formally opened to the public February 13, 1896. Still in use 102 years later, it is one of the oldest functioning city halls in California.
In 1975, Alameda City Hall became the city's first official landmark–Alameda Historical Monument No.1–and in 1980 it was listed on the National Register of Historic Places.
With its rusticated base, red brick walls, and arched portico, the building presents a dignified image of a house of government. The Romanesque Revival styling, inspired by the work of architect Henry Hobson Richardson, originally included a central tower as high as a 12-story building. Following the1906 earthquake, the tower's damaged top section, an open-arched belvedere, was removed. Deemed unsafe, the remainder of the tower was dismantled in 1937.
The recent renovation project involved a virtual reconstruction–minus the tower, however. In addition to seismic strengthening, new electrical, mechanical, and plumbing systems were installed. The stairwell, formerly clogged by an elevator, was opened up. The high vaulted ceiling of the council chambers, once hidden behind acoustic tiles, is again in view. The interior's original feeling has been brought back, and the exterior has been cleaned up and provided with new landscaping.
The Ratcliff Architects served as project designer. Dasse Design provided structural engineering. Swinerton & Walberg Company, Inc. was the general contractor. Public Works Director Robert L. Warnick and Building Official Steven W. Davis acted as project managers for the City of Alameda.