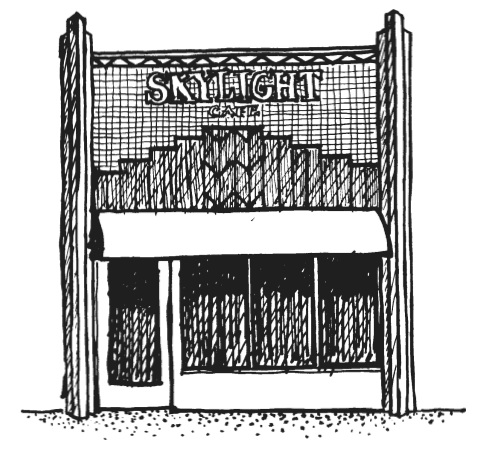 From Stucco to Stellar
The Skylight Cafe is located at 2320 Central Avenue between Park and Oak Streets in an Art Deco style one-story building. When constructed by H.F. McKallor in 1931, it had a black tile facade flanked by stepped pilasters and Mayanesque transoms, according to Art Deco architectural historian Michael Crowe. During subsequent remodeling, that tilework was trowelled over with stucco, and much of the transom was blocked with a sign.
The first business at that location was a retail outlet for the milk and ice cream of the Alameda Dairy Company. Their main store and processing plant was at 1500 Webster Street, currently Tillie's Tempting Foods.
Architect Italo Calpestri, the building owner, and original Skylight Cafe proprietor Ron Vigney, initiated the work that earned them an AAPS Historic Preservation Award. They revamped the building during 1995, when the stucco was removed, and much other work was done. Mr. Vigney did the stucco removal and repaired the broken glass in the transom himself. The rejuvenation received financial assistance from the City of Alameda Community Development Department.
Although both men made many improvements to the building, the scraping of the stucco to reveal the original Art Deco tilework was the primary reason AAPS thought this effort worthy of an award. Their work is a dramatic example of how a relatively simple job can transform a commonplace building into one of distinction. The Skylight Cafe is now truly a contributor to the Park Street Historic Commercial District, listed on the National Register of Historic Places in 1982.