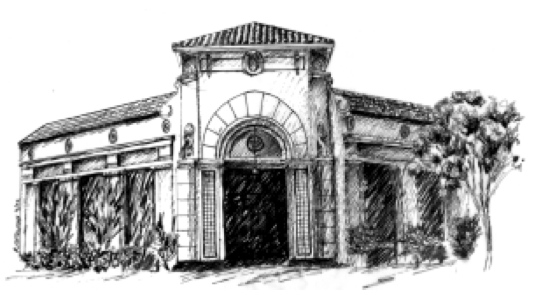 Ceiling Was A Hidden Treasure

by Nancy Hird
In 1928, the Alameda Bureau of Electricity (now AP&T) hired Architect Carl Weiner to design a one-story office building on the corner of Santa Clara and Everett Streets. The building is of Mediterranean design with Renaissance baroque ornamentation. The interior of the building featured an ornate high ceiling made of lime plaster, sand, sisal fiber and water. A faux wood coffered ceiling near the entry of the building is followed by three large coved ceilings separated by plaster ceilings with geometric designs, flowers, stars and lion faces over the windows. The high ceiling was covered with two suspended ceilings, each lower than the other ceiling to reduce noise shortly after the Electric Company personnel took occupancy. The beautiful ceiling was further insulted with gaping holes to install wires and air conditioning ducts as time passed. Oily soot from heating units (possibly oil) was forced upon the mural surface. Some of the design had been painted out.
In the 1960s, the building was used by the Alameda First National Bank, which used it to house their mortgage business. Through the years, the building was "updated" by its occupants with layers of white paint splashed over walls and acoustical tile. When Jim and Bernadette Allen purchased the building to use as their offices for 21st Century Toys, they were not aware of the treasure that awaited them above the dropped ceiling. Bernadette moved some of the acoustical tiles and was surprised to view the arches and large beams. She could faintly see some colors and patterns beneath the black soot and grime covering the mural. The Allens hired decorative painter Jett Thorson and her son, Christopher Brooks to restore the original ceiling to its current splendor. While searching for candidates for the 2001 Preservation Awards, AAPS members came across Jett and Christopher using paper towels and water to gradually remove the dirt, oily soot and tobacco smoke inch by inch, not unlike the restoration of the Sistine Chapel. The two artistic professionals toiled for nine months in the un-heated building accomplishing this task. A plasterer repaired the holes using the original materials. Jett and Christopher made tracings of each design and created stencils to recreate the original mural. Stencils were used as patterns to paint the large blocks of designs, while the other details were hand painted.
William Berg and Associates, who use the offices for their law firm, currently own the building. Members of the public can visit the interior of the building but are asked not to disturb the occupants. If you go, don't miss the photo of the original electrical company appliance show room located on the wall to your right as you enter the building. Your visit will leave you with an appreciation for the historical preservation of Alameda's treasures.