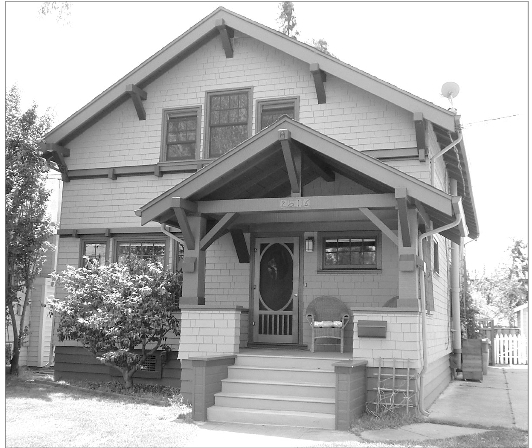 A Family Project
Story by Denise Brady
Kieran and Sara Hughes had been looking for a Craftsman home to restore. That goal became a reality in 1998 and "the adventure" began. Over the next several years the family of four worked continuously on restoring the severely 'remuddled' interior. Daughters Lizzy, 15, and Cynthia, 14, were part of the team. Paint was stripped from the fireplace Klinker bricks and woodwork, doors replaced, floors refinished, walls and ceilings repaired, plumbing replaced, electrical upgraded, and so on. Sara said, "we touched every bit of this house!"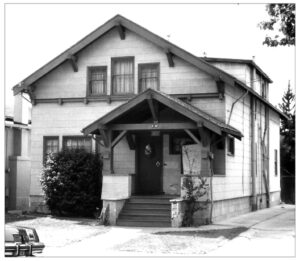 In the summer of 2006 they tackled the exterior by removing the (non-friable) asbestos cement shingles. Tarpaper had been stapled over the original cedar shingles and then the cement shingles nailed on top, each with 6 nails. Kieran carefully removed the cement shingles and tarpaper. These items were disposed of safely and properly at the Livermore dump. Next came the task of removing all the staples. Kieran thought this would be a good "summer job" for the girls. The crew expanded to include members of Cynthia's swim team. Following their morning swim drill, the crew went to work removing the thousands of staples. "It was hot and we drank a lot of Gatorade," lamented Lizzy. Sara helped out by supplying the gang with refreshments and making the runs to Home Depot for more supplies.
They rented scaffolding from Hertz Equipment Rental, which arrived in many pieces on a trailer. They assembled it on one side, and then had to disassemble and reassemble it in order to move it to the other side of the house. What a hassle! They took it back and got a scissor lift– a much better, though more expensive, option.
Surprisingly, many of the original shingles were in good shape. Kieran replaced the damaged ones with the highest-grade cedar shingles from Economy Lumber–only the highest grade matched the originals. Window trim did not need replacing. However, Kieran did have to remove quite a bit of sheet metal flashing that had been installed around the windows to accommodate the cement siding. Most of the original window moldings remained and he added some redwood trim under the windowsills. It was interesting that, after tearing off the siding, they noticed shadow lines for a missing decorative molding over the first-story front windows. It seemed to match the existing trim that remained above the windows on the second story, so Kieran crafted matching molding.
Finally they were ready to paint. They all applied special primer/sealer and top-of-the-line Sherwin Williams paint from their Arts & Crafts period collection: Weathered Shingle (body), Aurora Brown (trim) and Roycroft Bottle Green (accent).
Throughout the process neighbors were cheering them on. The end result is a wonderful restoration by a truly remarkable family
The house was built in 1909 by Alameda Land Company and the first owner was A.M. Wright. Sara jokes about finding the "(W)right" house for them. I would have to say that the house was fortunate to have the "(W)right" family come along.