Alameda Point Hangar 21–Adaptive Reuse Project: St. George Spirits, Tenant
Story by Dick Rutter
There is a distillery at Alameda Point, and it is getting critical notice. This distillery, which is bigger than you'd think, makes Eau de Vie (brandies), St. George single malt whiskey, Hangar 1 Vodka, Aqua Perfecta fruit liqueurs, and Reserve Spirits (aged brandies). Jorg Rupf, a native of France's Alsace Region, and Lance Winters, his partner, run the St. George Spirits Distillery located in the former Hangar 21 at Alameda Point. How they got there is an interesting story.
Twenty-four years ago, Mr. Rupf started distilling small batches of brandies in the basement of the old Shell Refinery Labs Building in Emeryville. He had been drawn to Northern California by the absolute cornucopia of consistently high quality fresh fruit available here. Very few people in Northern California seemed to be in the business of making high quality distilled spirits from these fruits, and Mr. Rupf believed he had the prior training and know how to develop a market for his products.
An Alameda veterinarian named Kent Rosenblum, had a home-brew wine business that was rapidly outgrowing his basement winery, and he needed more space. Mr. Rupf subleased him some basement space in the Shell Labs Building. Before long, both businesses had outgrown the old Shell Labs Building basement, and about that time, old buildings at the former Todd Shipyard in Alameda came up for lease. Rosenblum Winery and St. George Spirits both moved to these much larger quarters at 2900 Main Street.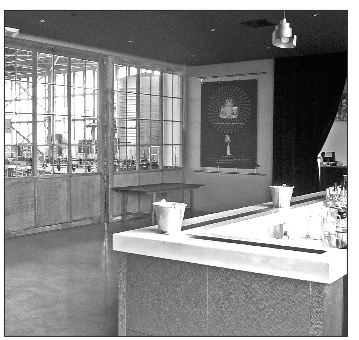 As time went by, St. George Spirits more and more seemed lost behind and between growing stacks of Rosenblum's wine barrels, and the firm decided that it was time to look for new space. Three years ago, they leased all of Hangar 21 at Alameda Point. The location offers plenty of parking, and the hangar itself is a 65,000 square foot, high bay space with few columns. By the nature of its construction, Hangar 21 lends itself well to tall distilling towers, fermentation tanks, and product holding tanks. Business offices are on second level mezzanines, while the entire production and storage of St. George Spirits' varied product lines is all on the ground level, easily managed and moved around using forklifts. Made in Germany, the beautiful copper stills are truly works of art themselves. There are two testing labs, and two large well appointed public tasting rooms with million dollar views both of the distillation and fermentation process and of San Francisco, across the Bay.
Lance Winters, Mr. Rupf's partner in St. George Spirits, is a former U.S. Navy sailor who once lived in Alameda, while assigned to the nuclear aircraft carrier USS ENTERPRISE (CVAN-65). He is a fan of the industrial architecture of the late 1930s, loves the workmanship found on old airplanes, and has quite an eye for graphic design. He is a friend of David Goines, the famed Berkeley graphic designer, who designed St. George Spirits' logo. There are a number of found relics from Navy days past preserved in St. George Spirits' facilities, and as remodeling takes place, the aesthetics of the Art Deco Movement and industrial designers such as Henry Dreyfuss and Albert Kahn are incorporated.