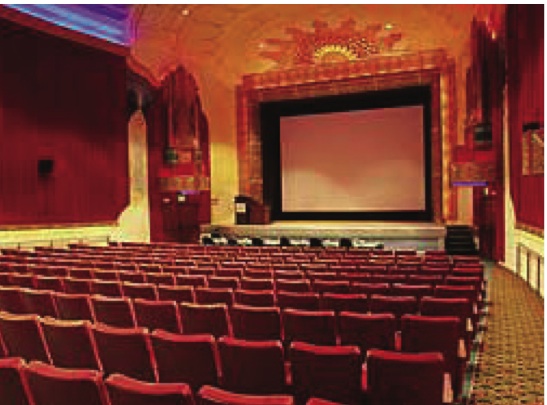 Auctions By The Bay Theater
Award Recipient: Allen Michaan
The Maison Theater was built to provide a movie theater for the Navy personnel and their families living at the Alameda Naval Air Station (NAS). The Maison was one property, among many, that was left vacant when the Naval Air Station closed in 1992.
Nothing in the theater remained that could be used for a structure suitable for theater viewing. In fact, the 900-seat Navy theater didn't look like much; it blended in with the many blocky facades that populated the NAS. Allen Michaan, the well-known Art Deco Theater renovator and restorer described this property as " absolutely decrepit—an absolute nightmare." Michaan summarized the existing theater building as one where, "everything that really could be wrong with it was." The electrical inspector said, "Pull all of the wiring out of the whole building and replace it all." By this time, Allen had renovated over 30 theaters and never had to do that before.
Thank goodness that this preservation-minded theater renovator took an interest in this building and transformed the Maison Theater into what became known in 2002 as the lovely Art Deco "Auctions by the Bay Theater." Auctions by the Bay Theater is now a beautiful, luxurious and opulent movie theater facility—perfect for events such as corporate meetings, seminars, sales presentations, weddings, private film screenings, and a wide variety of other uses. Besides its theater and box office features, this space occupies the home of Auctions By The Bay's live auctions of art and antiques, which occur several times each month.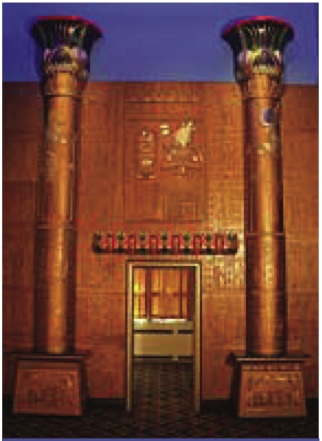 Over the years, Michaan has cemented his reputation as a preservationist—turning run-down theaters and forgettable warehouse spaces into period movie shrines, notably Art Deco, that bring back memories from an earlier time. In Allen Michaan's words, "My focus for the future is what I'm doing here; walking through aisles that look immaculate even when the house lights are on. I'm making the transition from the traditional movie palace operator that I've been all these years into applying that philosophy and style and ambience to the auction world. We're trying to create something that's sort of a hybrid that nobody's done before."
What is ironic is that the Auctions by the Bay Theater is considered "restored," but it never looked like this. It used to be a plain box theater. When Michaan took possession of the theater, he selected a grand Art Deco architectural theme, spent an estimated $1 million, and created a movie palace. It's beautiful! As Michaan doesn't own the theater, he designed all of the lovely interior fixtures, furnishing and facades to be terrific 'in place' but also removable—this includes everything—the red ornamental plaster and mural, the red velour drapes and chairs, and opulent carpeting.
Auctions by the Bay Theater, like many other NAS properties is leased by the City of Alameda from the U.S. Navy. This lovely transformed Art Deco building also hosts Michaan's Auction by the Bay gallery rooms and live-auction area. Movies and a growing number of special business and community events take place in this theater, while the remaining space is reserved for auction activities. It was originally planned that the Art Deco theater seating and stage would host Michaan's auctions—using the theater stage to display each item(s) being auctioned. This grand theater venue was found to be overwhelmingly formal for auction-bidders. To better optimize the building for auction goers, the back of the theater was redesigned as multi-layer auction room and gallery with a live auction seating and bidding section.
In Michaan's Auctions by the Bay Theater, a walk-through shows a terrific and beautiful Art Deco theater that features large warehouse-size galleries. You can stroll through the galleries at your leisure; it's like going to a free museum—and best of all, everything is up for sale! The lobby is done in metallic Art Deco friezes. Upstairs, the entry to the balcony is The Egyptian Room, complete with a brilliant Art Deco gold Egyptian motif.