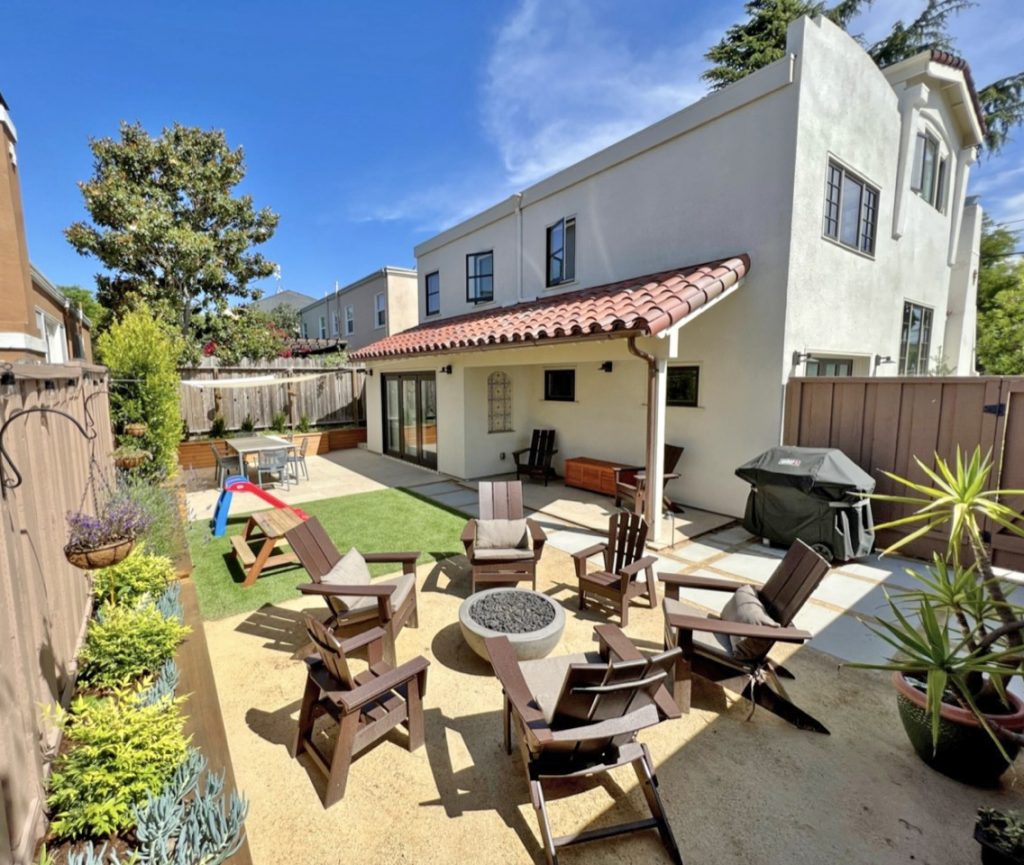 Build Back Better!
Story by Conchita Perales
Brian Maryo and Katie Schultz, Owners; Angela Klein, Architect; Keith Challberg, Buestad Construction; Juan Gonzalez, GM Painting; John Vasquez, Montclair Garden Company.
Brian Maryo and Katie Schultz went looking for a house four years ago and felt lucky to find a beautiful one in Alameda that "checked all the boxes" for the style, size and type of neighborhood they were looking for. Now, as you admire the extensive restoration and new inspiration they have given their 1924 Mediterranean-style home, built by famous Alameda architect and builder George Noble, you realize that it is the house and the neighborhood that are lucky to have found owners like them.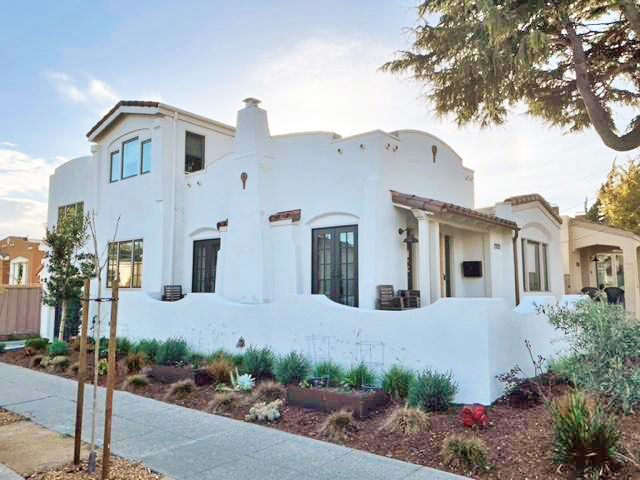 Brian describes how they knew this was their house from the moment they walked inside. From its architectural style and layout, the wood fireplace, the hardwood floors, the original gumwood trim around doors and windows that had never been painted … there were just so many things about the house that captivated them. However, when you purchase a home, usually there are changes you want to make, things that need to get fixed, and issues yet to be revealed.
"The project was simple, we wanted to convert part of the garage into a livable, usable space that would work as a family and play room for our young daughters. The new room would also naturally connect the house to the outside, rather than going through a laundry room, two doors, and the garage", Brian recounts. "It was important to us that the new floating hardwood floors we wanted to install would match the rest of the house. And we also knew that the aluminum windows that were put in the 1970s needed to be replaced with double pane efficient ones. However, as we began planning these projects, our list of how to improve and fix the house grew."
And so it was, that updating a leaking aluminum kitchen window led to a decision to update all the inefficient single-pane windows. And fixing the water damage led to updating the wiring and insulating the walls. But that was just the beginning! Once they committed to a construction company being on hand for the new addition, they also decided to update and remodel the kitchen. The most important thing to us was that the work would feel like it was part of Noble's original design.
Brian and Katie knew several people who had worked with local architect Angela Klein, so they hired her to put all their ideas on paper. Then they contracted with historic preservation specialists at Buestad Construction to manage the project. With these experts on board, it looked like clear sailing.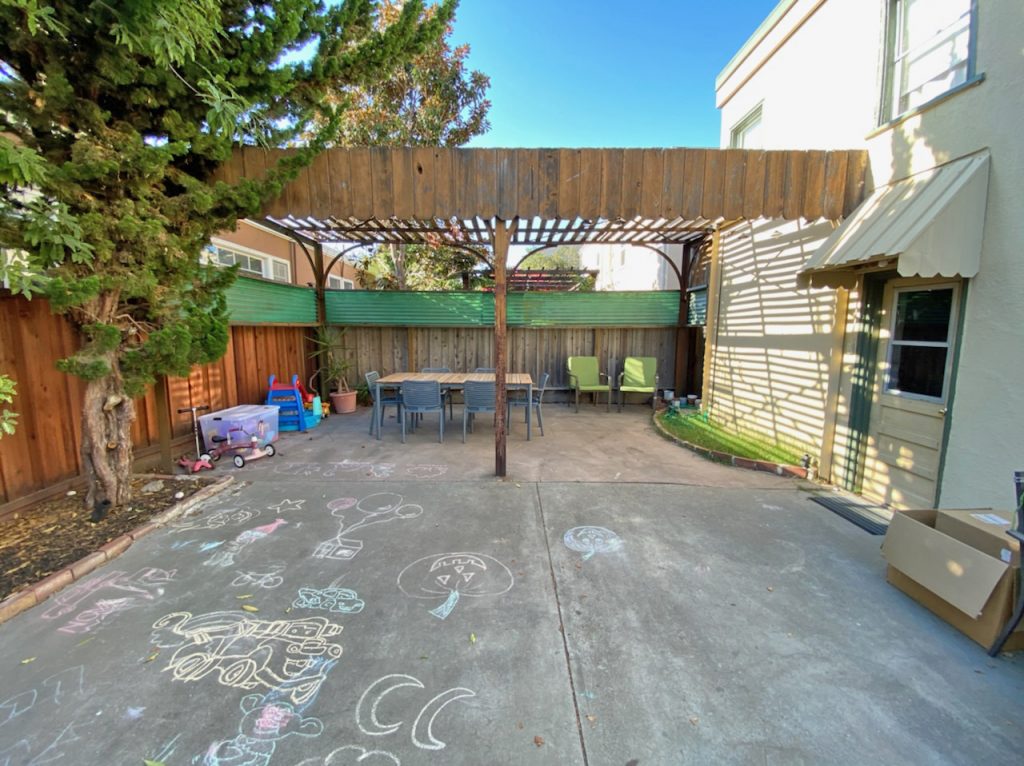 Brian clearly remembers the day Buestad's Ken Carvalho came out to look at the house. "One of the first things he asked was 'Do you know from the home inspection report if there is termite damage? Because I'm looking at the cracks in the stucco, and I've just got a nervous feeling… From my 40-plus years of experience, these cracks indicate termite damage.'"
Sure enough, Buestad's crew found active termites in the French doors on the side of the house. And at first, it seemed the termites had stayed only in the frames, but later, when the plaster was removed, there was massive termite damage and evidence they had traveled everywhere. In fact, in one corner of the house, the termites had eaten an entire support post away, leaving the corner of the room suspended in the air, and the plaster the only thing holding it up. "We would've never known!" Brian exclaims. "The structural engineer, the carpenters, and everybody involved had to be very creative solving this major issue, and they did an impressive job. Now the house is solid, and it looks better than it ever looked before."
What started as a semi-garage and laundry passageway to a concrete slab has now been transformed into a comfortable family room that looks and feels as if it had always been part of the house. It's connected by a three single pane sliding door to a beautiful and practical outdoor space surrounded by cleverly built wood planter boxes designed by Keith Challberg, the site supervisor, that hold flowers and greenery. Brian and Katie added a patio with a large table to enjoy family meals, a green patch of grass for their girls to play on, and a sitting area with Adirondack chairs for relaxing with friends and family. To add a decorative touch they selected hand-painted tiles to go on the risers of all the outdoor steps as well as in a special niche that decorates the exterior wall. And to finish it all off, they incorporated a red tile roof just like the one in the front porch, with cleverly built-in vents.
Katie and Brian have lovingly taken their 100-year-old classic handmade house and added another 100 years to its life. Walking past and admiring it's beauty, we can all enjoy this beautiful house just as much as they do.