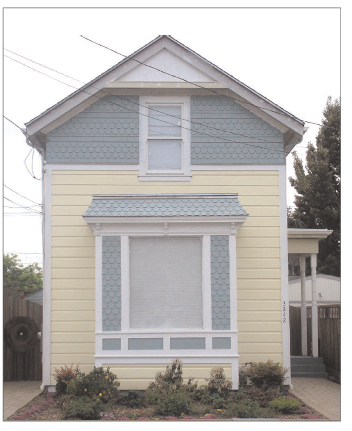 Remarkable Recycled House
by Denise Brady
One can easily see from the before and after photos that JP and Amy Frary have done a terrific job of renovating the exterior of their 1889 Victorian home by removing cement shingles and restoring the siding and ornamentation. What is not obvious is that virtually every piece of wood is recycled, either from the house itself or from other old wood.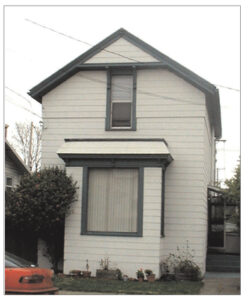 Based upon my first phone conversation with JP, I knew this house was going to be unique. He had removed the redwood siding, stripped it and put it back in place. The doors, stair railings, trim, windows, even some of the furniture, has been made from recycled floor and ceiling joists and some of the damaged exterior siding. The fence is recycled lumber from an old water tower in Hollister.
They remodeled the kitchen and extended the second story above it, adding a master bedroom. The addition is seamless, with great care given to matching the surfaces and details, such as the hexagon shingles. The kitchen cabinets and flooring were milled from Oregon White Ash trees.
JP is a very skilled carpenter teaching woodshop at San Leandro High School. It is no surprise that he has a passion, even a relationship, with wood. He grew up with wood. He tells of his family home in Mendocino where his job was to start the fire every day in the fireplace, their only source of heat. He adds that, ironically, his parents added central heat when he left for college.
Amy credits JP for his talent and hard work. She says "he taught me that wood has beauty beyond function. Imperfections add character, history and tell a story. He gives words to the wood."
I credit Amy for encouraging her husband and for hanging in there throughout the ordeal of a home renovation. During the process they moved from room to room, at one point sleeping in the kitchen. At another point the back of the house was opened and covered with plastic sheeting. She had been through similar times while her parents renovated their old house in Chicago.
The end result is that this house is truly remarkable. JP describes it as "new guts from old wood." It is nice to know that he is inspiring students and a new generation with his philosophy.