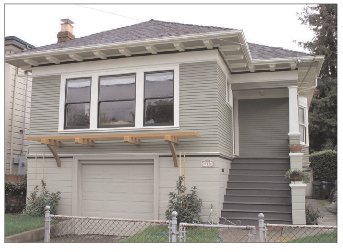 by Janelle Spatz
In 2000, Thomas Saxby was living in an apartment in Oakland. He wanted a house for himself and Katherine, his soon-to-be bride. After writing eight other offers on homes throughout the East Bay and having his offers rejected, Thomas said he felt that this house picked him. Katherine was in complete agreement. The house, built in 1908, seemed to fit their lifestyle and personality.
Katherine teaches high school French and English in Orinda and Thomas is a successful architect. He is a Certified Green Building Professional, and has affiliations with California Preservation Foundation, The National Trust for Historic Preservation and has received awards from these organizations for his rehabilitation of several buildings.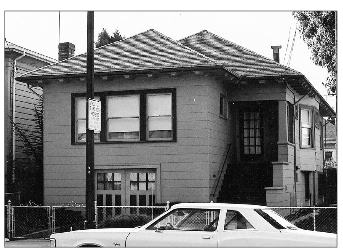 Thomas and Katherine have applied their knowledge and appreciation of older architecture to their own home. The exterior had been covered over with asbestos-cement shingles, exterior trim removed and all of the windows had been painted shut. After removing the shingles, all of the wood siding had to be stripped of lead based paint, repaired and replaced where necessary.
Each window was removed, reworked and restored. Some of the windows still have the old glass with those wonderful wavy ripples of distortion.
When the exterior shingles were removed, shadows of a planter box were discovered under the front windows. Being a resourceful architect, Thomas has constructed a trellis where plants can grow onto without the weight of a full planter box.
This home has truly been changed from an "ugly duckling" to a treasure to be proud of. Thank you, Tom and Katherine for all of your hard work.