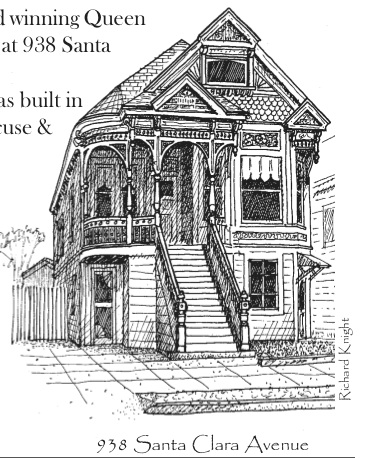 Victorians Are Our Destiny
This award winning Queen Anne cottage at 938 Santa Clara Avenue was built in 1893 by Marcuse & Remmel, "the most prolific of all the Alameda Victorian building and design firms," according to historian Woody Minor. They produced about 400 buildings on the island; almost 300 are still with us, including this home owned and restored by Alex and Karen Lithgow.
About ten years ago the Lithgows were living in San Francisco, thinking about investing in an apartment house. Then one day Alex said, "I want to show you this old house; it's five units in Alameda." When Karen saw all the trim and molding, she said, "I don't care what it costs; I don't care how long it takes. We have to have it." The single-family house had been divided into six apartments, three on each floor. So they decided to restore the top floor to one Victorian flat and retain the three rental units underneath, and the task has taken them ten years.
"A lot of our work was undoing what had happened to the house when it was chopped up into little units. A wall divided the front entry way in half, linoleum was glued onto the hardwood floors, and someone had actually cut into the redwood molding to install a makeshift kitchen. Another major project was to rip out all of the false dropped ceilings and restore the plaster to its original state."
Karen is quick to share credit for the completed work, "We found a wonderful carpenter to refinish and replace all our fancy woodwork. " Mike did so much work at 938 Santa Clara Avenue that Karen and Alex's two sons, Clive and Rowan call him "Uncle Mikey" and insisted on getting tool belts for Christmas.
Karen reconstructed the plaster ceiling rosettes, "The ones in the dining room and entry way and the side parlor are the originals, and they were cracked in quite a number of places. So we sculpted them back to the original with plaster of Paris. They're not perfect, but we matched them pretty well.
Karen compared their renovation with searching for buried treasure. "These pocket doors were hidden for fifty years. When they divided this part of the house into units, they sheet-rocked right over them! So we bashed open the sheet rock and there they were! We also discovered some papers stuffed inside, including an old bill from a French laundry on Webster Street, back when things cost five cents per item."
The Lithgows were contemplating exterior paint color choices during the nine long years of interior renovation, "I picked the basic shades from a needlepoint rug in my bedroom. Then I hired Bob Buckter to help us with the rest of the colors. We stood out in front and picked color by color until we got all eight. My son Rowan insisted that the house have red and green on it for Christmas. Finally, there's a lot of gold leaf as an accent." That gold leaf caused a bit of a hassle, "We started to put on gold paint, not gold leaf; but Bob Buckter came by and. …lectured us on how horrible it would look within two years if we didn't use real gold. Alex, who grew up in Tanzania, had valuable skills that he put to the test during their restoration effort. "I had to learn to make and fix things because you don't have any choice out in the wilderness." So when he found that much of the outside trim was missing, he replaced most of it himself, including the entire front stairway and the spindles on the porch.
The Lithgows have invested much time and money in their house, but they think the effort is worthwhile. "We just gravitated to it," Karen said. "In the middle of the Tanzanian wilderness they didn't have old houses, and I grew up in a suburban tract house in Los Angeles. I also traveled in Europe and was influenced by the old, beautiful architecture. When I cam back to the United States, I felt that Victorians were my destiny."
In retrospect, Karen mused, "We didn't know how long it would take or how expensive it would be, and that was a shock. But we also made positive discoveries. I found out that I have flair for decorating and can work with colors. Alex realized he could coddle the old plumbing and antique appliances, and re-mill missing house parts. It has been a rewarding discovery!"
The Alameda Daily Argus praised architects Marcuse & Remmel in 1895, for "covering the vacant lots with neat cottages and establishing in each a happy family." The Lithgows are a fine example of a happy family in a neat cottage.