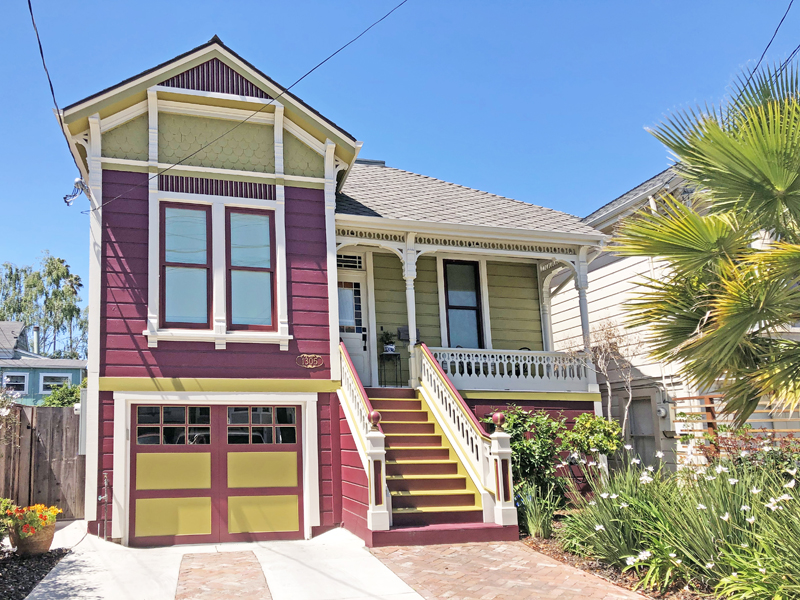 Story by Karen Lithgow
Award Recipients: Jan Erion, Owner; Joe Landry, Architect
Jan Erion is thrilled to receive a preservation award for the work done on her home at 1305 9th Street and sees it as a satisfying culmination of her life's work as an artist, builder and restorer of houses, local realtor and Victorian homeowner. She began her art career with two degrees from the University of Washington, quickly developing expertise in surface design, painting and color theory. Jan was a successful studio artist in Seattle for over 25 years, primarily as a painter and printmaker, selling original works both nationally and internationally.
Jan went on to build four houses in the Northwest from start to finish, facilitating her "giant hobby of building houses", while working full time as a visual artist. Jan also owned several vintage homes in the Seattle area including Craftsman, Contemporary, beach houses and a 1904 Seattle Salt Box.
With her education and fine arts background and experience building and renovating houses, Jan moved to the Bay Area 10 years ago and began work as a residential realtor. The variety and richness of the vintage homes here eventually inspired her to consider buying an old home in Alameda for herself. A realtor friend was selling a home Jan found appealing and she asked him if he knew of any similar ones coming up for sale. He said, "Yes I do know of one, but it's a real stinker". This "stinker" ended up being 1305 9th Street and what a project it was! The house was being sold by a man who inherited from his mother and had been occupied by tenants for many years. The house was in horrible condition as nothing had been done to it since the 1930s. Jan to the rescue!
The tenant occupancy situation of the house meant that Jan had just one hour to take a look through the house and decide if she wanted it. Luckily for Jan, she had the assistance of architect Joe Landry who was able to accompany her to the property. What attracted Jan to the home and helped her decide to buy it was the potential curb appeal, the old and tired but intact exterior trim from 1885, the original molding and baseboards, eight gorgeous paneled doors, a deep lot and a beautiful old oak tree in the back yard. She went ahead with the purchase and immediately set to work. 1305 9th Street was a true Queen Anne Victorian Cottage.
Jan's home renovation experience was critical to help her organize the right repairs. The crumbling brick foundation was replaced and she was able to get a variance from the city to excavate to make a proper basement. Jan was determined to get permits for every inch of the repairs and Joe Landry was very helpful as he is "an extremely talented architect and masterful in working with the city". Joe held weekly meetings with the crew and Jan appreciated that all of the workers were part of a team. Joe's master's degree in architecture came into play in various aspects of the renovation including the creation of templates for the woodwork coming down the front staircase that continue the design from the porch. Other key contributors to the project included Joe Garry, electrician, and Golden Gate Sheet Metal for their work on the furnace and heating. Local inspectors were also very helpful to the process as they were able to identify some additional work that needed to be done.
Both practical and aesthetic enhancements were made to the home along the way. Jan's workers added insulation while uncovering redwood in the walls wherever possible. A new garage door was added and the windows which were falling apart were replaced with new Milgard windows that have the same profile as the original wooden ones. She also kept the hardwood floors and replaced floors that were not level; adding custom tile. A two-way fireplace and four chandeliers were added to create a glamorous ambiance while keeping the feel of an old house. All of the work that was performed was done with the goal of a creating a green building project which led to credits back for the recycling and green achievements.
One of the most satisfying projects for Jan was picking out the color scheme which she of course could do expertly herself. She chose burgundy for the main color to make the house reflect an original Victorian color, to beautify the street. The splendid front door was a surprise housewarming gift from a longtime friend. It came from an 1885 farmhouse in Benicia and was the same vintage as the existing transom—both are original. Jan clearly loves her beautiful Victorian home and cannot wait to prominently display her new award plaque.